State of the university emphasizes inclusivity
By BETHANY SHERROW
News Editor
(WARRENSBURG, Mo., digitalBURG) — President Chuck Ambrose highlighted the changing student needs and concerns, and emphasized the steps the University of Central Missouri community has taken to promote and maintain inclusivity  Thursday, Sept. 15, during the 2016 State of the University address.
He said one student let him know they wanted to see change on campus in such a way that every student in this campus community feels like they have access to privilege.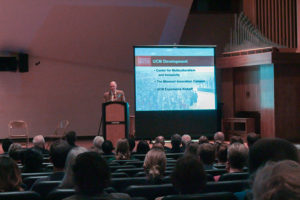 "Now, think about that, we do have students every day who feel as if, perhaps, they don't have equal access to the services and support required to help them be successful," Ambrose said. "But by focusing attention on multiculturalism, inclusivity and an engaged campus, this will allow us to focus our attention on those things that bring people together and not those things that pull us apart and it will be a tremendous asset as we move the campus community forward together."
Ambrose was joined on stage by students Raven Alade, junior psychology major, and Jon Barr, senior special education major. He said Alade and Barr are examples of student leaders who work to make UCM a stronger community.
"There's been a very intentional sense that a healthy campus is one that can sit down and talk about inclusivity and race," Ambrose said. "There's been a lot of intentional student leadership over this semester."
Alade said she wants to make change on campus through her work with the Association of Black Collegians, African Studies Leadership Council and UCM Underdogs.
"We want to all feel like we belong here, and if we don't have people like me and other people I know who want to do that then we won't survive here," Alade said. "We pay all this money and we have to really feel like we have a sense of belonging at the university."
Alade said being an African American student at UCM means she doesn't see people who look like her all the time so she knows it is her job to speak out for minorities.
"I have to make a difference and I have to be the one to speak up, speak about change, and speak about being inclusive, and be that voice for the people who are underrepresented and feel like their voice is not heard," Alade said. "So just being a change agent, speak about what you care about."
Alade said she thinks the university is at a good place, but could always get better.
"I think that we're moving forward," Alade said. "With the multicultural center, I think that's a good start. We're never going to be perfect, but we can strive for success and inclusivity for everybody."
Barr said he agrees with Ambrose about the state of the university being strong, but he thinks Alade is correct in saying there are changes that need to be made.
"Sometimes there's that wall built up and we're really trying to break that down," Barr said. "I think the state of the university is strong, and it's only going to get stronger this year."
Ambrose said, in many ways, students become the teachers and that there are changes ahead for UCM.
"We're very grateful for the quality of your commitment and your tolerance and acceptance of change and for a dynamic here that not every campus enjoys," Ambrose said. "There's a sense of care and commitment, specifically to students that is in your DNA. There's not a program, there's not a positing platform, there's not a video or a tweet that adequately represents who you are and what you mean to the University of Central Missouri."
Ambrose said the university has a dynamic year ahead of it and a continued commitment to student success can help build a better community.
The full State of the University address can be found on UCM's Facebook page.