Jennies soccer comes out kicking
By ALLYSON COOK
Reporter
(WARRENSBURG, Mo., digitalBURG) — The University of Central Missouri Jennies captured two shutouts in their first weekend of play.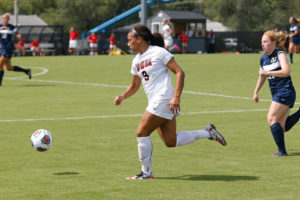 The team traveled to Weatherford, Oklahoma, Thursday, Sept. 1, where they beat the Southwestern Oklahoma State Bulldogs 3-0. They continued the shutout trend Saturday, Sept. 3, during their first home game against No. 17 Augustana where they came out with another 3-0 victory.
Even though the starting lineup is mainly returners, last week's game against Southwestern tested the Jennies' defense. The score doesn't show it, but the Bulldogs took 20 shots, seven of them on goal, whereas the Jennies took 15 shots, with also seven on goal.
"We didn't execute the style of play," head coach Lewis Theobald said after this game. "(We're going to) really break down the defensive principles and break down the little things instead of focusing on the big picture."
This showed Saturday in their game against Augustana, where they only allowed nine shots, five of them being on goal. Abby Rhodes made her second goal of the season, along with redshirt sophomore Jada Scott and junior Megan Woolley to make the score 3-0.
The past two years, the Jennies have been MIAA regular season champions, won the conference tournament title and made it to the elite eight in the NCAA tournament. This team wants to make it all the way this year, but they can't let the past years influence them.
"Our challenges are going to be our mentality and consistency," Rhodes said. "We have to make sure we are respecting every game and coming in mentally strong and then with the consistency, not letting down to teams who might not be the best."
Rhodes was named the MIAA defender of the week. Not only did she score in each game, but she also helped anchor the Jennies defense to the back-to-back shutouts. Rhodes is not an average defender; she starts the game in the back, then as the game goes on moves up to forward.
In the National Soccer Coaches Association of America preseason poll the Jennies were ranked No. 5, after last weekend they moved up to No. 4.
The Jennies next match is on the road Saturday, Sept. 10, against Minot State in North Dakota. Their next home game is at 1 p.m. Sunday, Sept. 18, against Northwest Missouri State.