State Fair midway draws crowds
By CASSIE SLANA
Senior Writer
(SEDALIA, Mo., digitalBURG) — The carnival midway is a popular attraction for the Missouri State Fair.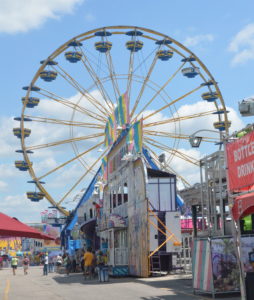 "We've got some great rides out here, and it seems to get bigger and bigger each year in terms of the quality of the rides," said Mark Wolfe, director of the Missouri State Fair.
Some Warrensburg locals were able to participate in the fun and games on Tuesday.
Delaney and Dawson Thompson, both of Warrensburg, said they came to the fair for the food and rides.
Delaney, 14, said she and her brother were looking forward to a ride called Fireball.
"It's fast and your feet are dangling, so it feels like you're gliding," Dawson, 13, said.
Harlie Jones, 16, of Chillicothe, Missouri, said she came with her boyfriend Chase Minnick, 17, also of Chillicothe, to attend the Chris Janson concert.
The two also rode the Ferris Wheel and planned to stay at the carnival for the entire evening to enjoy the lights and the night life. They enjoyed corndogs and funnel cakes as well.
"We really do have a very first-class carnival out here," Wolfe said.