Beverage pouring rights awarded to PepsiCo: Contract worth up to $2.13M over 10 years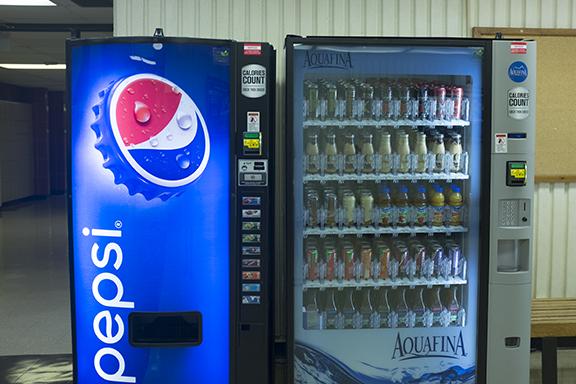 Written by Muleskinner Staff
August 11, 2016
By STEVEN SPEARS
Managing Editor
(Warrensburg, Mo., digitalBURG) — The University of Central Missouri's newly cemented contract with PepsiCo could be worth up to $2.13 million over a 10-year period and includes benefits for athletics, scholarships and discretionary spending.
The UCM Board of Governors unanimously voted to award beverage pouring rights to PepsiCo during a meeting Feb. 12, ending the university's partnership with former vendor Coca-Cola. The contract with PepsiCo was signed March 30 after working out the details for a little more than a month.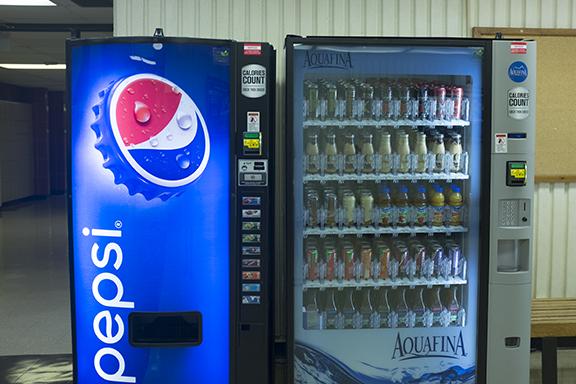 Lisa Butler, director of procurement and materials management at UCM, said the declining service provided by Coca-Cola near the end of its 10-year contract was a factor when scoring the bid proposals.
"(UCM) didn't have very good service at the time the contract was expiring," Butler said. "We asked for machines to be filled, and the week of finals we had more than 20 machines that didn't have product. That caused (Coca-Cola) to have a lower score. Because people are going to remember that."
The beverage pouring rights contract grants PepsiCo the right to be the exclusive supplier of all carbonated and non-carbonated, non-alcoholic, natural or artificially flavored drinks and sports drinks sold on campus. Exceptions to the contract include Taco Bell, Spin! Pizza and Starbucks. University dining halls and convenience stores will also continue to serve both Coca-Cola and PepsiCo products.
The contract with PepsiCo will result in one-time fees of up to $138,000, and annual fees reaching as high as $201,000 the first year of the contract and $199,000 in the years following.
Included in the agreement's one-time fees are in-kind donations of $11,400 toward the purchase and service of ice makers and adaptor kits; $21,600 for the conversion and replacement of competitive products signage; and $105,000 to buy and install athletic department scoreboards and video displays.
Funding for the scoreboards and video displays will be provided in the form of a donation to the UCM Foundation, according to the contract.
The contract requires PepsiCo to buy two portable scoreboards that will be located at the South Recreational Complex and cost approximately $3,500 to $4,000 each; one scoreboard for the women's soccer team that will cost roughly $20,000 including installation; and an outdoor LED video display and installation.
The athletic department will receive up to $25,000 in annual support to host athletic summer camps, according to the contract. PepsiCo will provide Gatorade products and merchandise, as well as speakers for the camps.
PepsiCo will also supply the athletic department with Gatorade sideline kits each year. The kits may include towels, coolers, squeeze bottles, Gatorade drink powder, cups and other mutually agreed upon merchandise, according to the contract. Funding for the kits will not exceed $4,000 the first year of the contract, with the budget lowering to $2,000 for each remaining year.
Other donations to the UCM Foundation include an annual sponsorship fee of $100,000 and annual scholarship funds totaling $2,000. The sponsorship fees will be used to fund university programs and activities at the discretion of the university president while the scholarship funds will be used for retention purposes.
Jenne Vanderbout, assistant vice president of alumni and development, said the scholarship funds provided by PepsiCo would supplement pre-existing retention scholarships UCM has in place for students who wouldn't be able to continue school without them.
"The only thing standing between them and not coming back and finishing is sometimes as little as $200," Vanderbout said. "On average, it's about $750 between a student staying and graduating and a student not when it's only based on financial need."
Butler said there are fewer vending machines on campus than there were when Coca-Cola was the vendor. There were 77 Coca-Cola vending machines on campus as of March 31, 2015, according for the request for proposal.
"We've actually gone down in the area of probably six or seven (vending machines) right now, actually a little bit more than that because Humphreys isn't on line and the airport is not on line," Butler said. "The reason being, the machines either hold more capacity or they're going to be more strategically placed so that way they don't have lost product."
The beverage pouring contract grants UCM a 35 percent commission on every beverage sold from a PepsiCo vending machine, according to the contract. There is a minimum guaranteed commission rate of $50,000 annually. At the start of the contract's second, fifth and eighth years, PepsiCo can raise vending prices 25 cents.
PepsiCo will also provide the university with annual marketing support of up to $5,000 and annual flex funds of $12,000. The contract stipulates that a student will be hired as a campus ambassador for Pepsi. The student will be paid $3,000 a year.
Throughout the contract term, PepsiCo is required to donate up to 1,000 cases of beverage products per year to be used at events and programs hosted by the athletics department, career services and enrollment management.
"We'll be anxious to see how students respond to Pepsi," said Jeff Murphy, assistant director of media relations at UCM. "I think it'll be a very positive experience."