Jennies soccer finishing up at home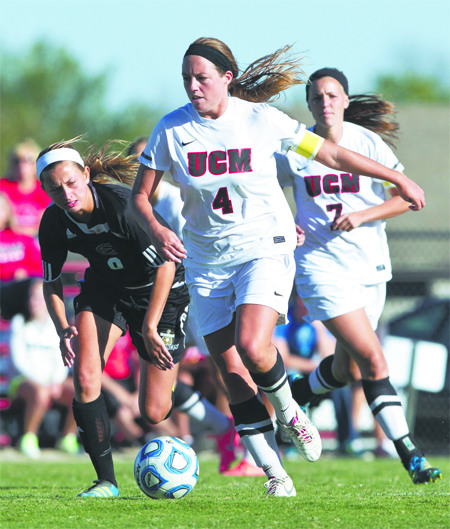 Story by Alex Agueros, for The Muleskinner—
Jennies soccer wraps up their regular season with two home games against conference rivals Thursday and Saturday. With a record of 12-1-3, the team hopes to avenge its only loss against Truman (11-4-1, 7-3), and celebrate senior night with a win against Lindenwood (5-8-1, 1-8).
Senior Kelsie Hanson said, "For me, senior night will be bittersweet. This year was probably one of the most fun years I've had. I'm really thankful to have the opportunity to end it with these girls, and be playing so well and to see how far we can get in the postseason."
Fellow senior Kayla Shain said, "Senior night is weird because it went by so fast. I remember being a freshman at my first senior night."
As exciting as senior night is, the team remains focused on playing their best. Coach Theobald said, "At the end of the year, it's a chance at another league championship, so there's a sense of urgency."
He went on to say, "I think it's been a great year, considering the strength of schedule. It's the toughest schedule I've ever been a part of, but great teams finish and we need to finish strong."
This assertive mentality is a running theme for the Jens. Hanson said, "We just want to be able to come out with a focus and aggression, and get up on teams early. Come in with that focus and perform the whole game, and stay on top the whole time."
Hanson added, "We want to go out hard, give it our all and try to be playing our best soccer of the year."
Shain shares the team's aggressive mentality. "We want to work on connecting passes and controlling the game a little better," Shain said.
The Jens have enjoyed success going into their final games, and are ranked 12th in the National Soccer Coaches Association of America (NSCAA) Poll.
Reflecting on the season, the team is satisfied with their position. "We like to think we've done the right thing since day one," Theobald said. "We will keep doing what we do and we'll be fine. I'm really pleased with where we're at."
Theobald also acknowledged his seniors going into the last two regular season games. "This group of seniors is a special group," Theobald said. "They have won a lot, and have been great leaders."
Both games are scheduled to start at 7 p.m. The Jens will begin the MIAA Tournament on Tuesday.