The effects of anti-smoking campaigns on smoking behaviors
Story by ELLEN BECKER, Managing Editor—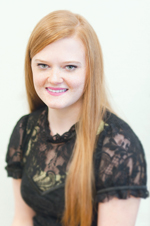 In light of the recent house fire on Jefferson Street, I thought I'd focus my editorial on smoking.
One of the residents of the home allegedly fell asleep smoking, which resulted in a fire. The fire then caused multiple oxygen tanks to explode, destroying the house.
What's sad, is that she has emphysema and COPD, yet she still smokes.
She even came up to me at the scene of the explosion and asked me if I had a cigarette she could have.
My other motivation for choosing this topic is a personal one.
Back in 2001, my uncle went in for a routine surgery and had complications with recovery due to low blood oxygen levels, caused by smoking.
The carbon monoxide from smoking causes reduced oxygen in the body.
The whole situation was terrifying for both my uncle and our family. It was a serious wake-up call for him, and he hasn't smoked since.
According to the Centers for Disease Control and Prevention (CDC), about 19 percent of all adults in America are smokers. That's about 45 million people.
Not only can smoking cause cancer, but heart disease, stroke and lung diseases as well.
In the United States, tobacco use is responsible for about one in five deaths annually.
I always wonder if TV and other media outlets can actually play a role in getting people to stop smoking, or at least consider it.
There have been many studies done on whether or not anti-smoking ads are really effective.
In a 2006 article in Alcoholism & Drug Abuse Weekly titled "Anti-smoking T.V. Ads Found Most Effective," a study was done to see what smoking cessation method worked the best.
The study, funded by the National Cancer Institute's Tobacco Research Initiative for State and Community Interventions, surveyed 787 people who had quit smoking in the past two years.
It was found that 30.5 percent said TV ads were their motivation.
Lead study author Lois Biener found that "the most effective ads focused on smoking-related illness or delivered inspirational messages." He added that "successful ads tend to arouse high levels of emotion."
The CDC recently launched a $54 million anti-tobacco campaign which features various ex-smokers who have been negatively affected by the drug.
The ads are generally very graphic and disturbing. One ad shows the morning routine of a woman who lost her teeth and hair and had to have a tracheotomy after she was treated for throat cancer.
Another shows a man with a stoma who warns people to "crouch, don't bend over. You don't want to lose the food in your stomach."
The PSAs are meant to be a wake-up call for current smokers and a motivator to keep others from ever starting.
Although the ads can be convincing, I think they also need to give smokers more information on how to control their addictions.
Even though someone might want to stop smoking, it's never an easy thing.
But for those who are thinking about quitting, I would encourage you to seriously consider it.
If not for yourself, than for the people around you.
Trust me, when someone you care about smokes, worrying about them is a daily occurance.