Sophomore goalkeeper leads from behind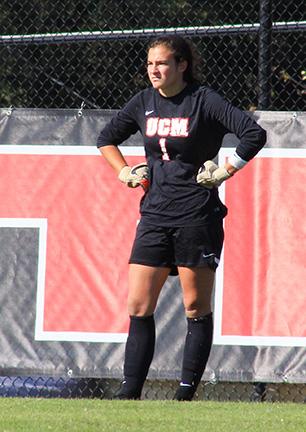 By ALEX AGUEROS
Sports Editor
(WARRENSBURG, Mo., digitalBURG) — Last season's freshman class left an immediate impression on the Central Missouri soccer team. Six freshmen started for the Jennies in their program-first NCAA Elite Eight match last November. First-year players Alex Yockey, Mikala Modiri, Baylie Edwards, Taylor Thompson and Megan Wooley combined for 25 goals. Central Missouri won a program-best 21 matches.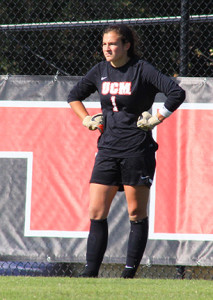 But perhaps the most obvious impression was made by the Jennies' 5-foot-7 goalkeeper, Ana Dilkes. The Jennies were riding a 23-game unbeaten streak before falling to Grand Valley State 3-1 to end their 2014 campaign. The loss was Dilkes' first loss as goalkeeper. She accumulated 91 saves, and with juniors forward-turned-defender Abby Rhodes and All-American defender Emily Eldridge, earned 13 shutouts.
Despite her immediate success, Dilkes does not spend time thinking about last season. In part, because this year's team could be even better.
"It's hard looking back at last year," Dilkes said. "I don't base anything off last year. We do have really good players this year. We haven't hit our potential yet."
Head coach Lewis Theobald said Dilkes is one of Central Missouri's best.
"Ana is probably the most complete goalkeeper we have ever had here," Theobald said. "She's not just a shot-blocker. She distributes the ball really well when she has it, she organizes the back line, she communicates with the team in front of her really well. She gives our team confidence because she's so solid."
As a freshman at a vital defensive position, Dilkes showed no signs of intimidation. Instead, she played with a sly flare. She would often tease the opposing team's striker in the box, waiting to corral a ball in the box until the last second. She would still be grinning before booting the ball with impressive topspin and hang time to midfield.
Dilkes is also notorious for talking with opposing strikers spending too much time in the box, or walking too close.
Theobald credits Dilkes' animated playstyle to the uniqueness of goalkeeping. He said soccer is a game of soldiers and artists, but goalkeepers are something else.
"I think, if you throw everybody in a group, goalkeepers are a different breed. You know?" Theobald said. "In the soccer world, goalkeepers tend to have quirky personalities and they're a little bit different. Because their role is so different. It attracts a different type of person to that position."
Central Missouri reached a No. 1 national ranking for the first time Sept. 22. They are ranked No. 10 after a loss at Fort Hays and their first home loss since Nov. 2013 against Northeastern State last Sunday.
During Sunday's game, a breakdown in communication helped the RiverHawks score the winning goal in the 81st min
ute. Dilkes gestured towards the team and hurled… creative encouragement towards her back line.
She said she gets "pretty intense" during matches.
"It's just heat of the moment," Dilkes said. "I try not to let it affect my play. Sometimes it has and sometimes I'll get in trouble for it … but it's in my job description to be vocal."
Theobald said it is important that the second-year goalkeeper stays collected in heated moments, but understands where the intensity comes from.
"I think first and foremost she is a winner," Theobald said. "She likes winning."
Only a sophomore, time will tell Dilkes' ultimate impression. For now, her legacy involves plenty of winning.
The Jennies (12-2, 6-2 MIAA) host Missouri Western (8-4-1, 4-3-1, MIAA) 7 p.m. tomorrow at the South Recreation Complex.