'Chicago' razzles and dazzles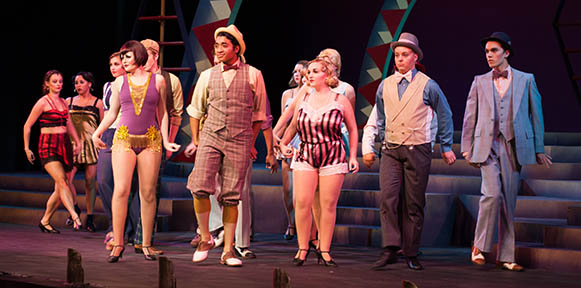 By BETHANY SHERROW
Assistant News Editor
(WARRENSBURG, Mo., digitalBURG) — I watched the final dress rehearsal of "Chicago" Tuesday night amidst a room of awkward, sweaty high school students. Things got spicy, to say the least.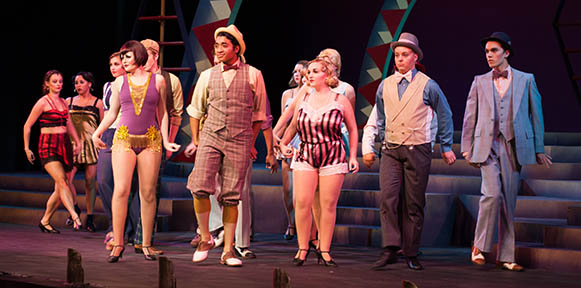 Julie Mollenkamp, director of UCM's production of "Chicago," was unable to attend the show so another theater professor, John Wilson, came to the stage to welcome the crowd.
The show opened with Velma Kelley, played by Nellie Maple, performing the famously vaudeville style number, "All That Jazz."
Vaudeville is a term used to describe the light, often comic theatrical piece frequently combining pantomime, dialogue, dancing and song. Vaudeville is very difficult and it looked like all the actors where in tremendous shape to be able to sustain difficult movements and to dance and sing at the same time.
Mollenkamp said UCM's production of "Chicago" would attempt to stay true to the original Bob Fosse style choreography.
The dancing was phenomenal. The singing was beautiful, and for those who have seen the movie version of "Chicago," Maple was comparable to Catherine Zeta Jones, who played Velma in the 2002 film. Her harsh, strong voice was a perfect fit for the character.
The opening act, however, was a bit confusing.
For one thing, I was wondering if they were supposed to already be in jail because of the diamond-shaped bars hanging behind the actors.


Also, as Velma sang, the character Roxie Hart, played by Kelsey Reinsfelder, murdered her lover in the background. There could have been more distance between the two scenes, to show that they were in different places.
Another aspect I found difficult to understand was that Velma was never seen being arrested, so that was a bit confusing – especially for audience members who had no idea what the show was about.
It took a little while to figure out what exactly was going on.
The diamond-shaped bars were in the background in every scene of the show. It was distracting in some cases. They're also scary in a way, because it seemed like an actor could fall or the shaking bars could collapse at any moment. I was bracing myself for that moment the entire musical, especially when two or three people would hang from them. I did, however, approve of them when the scene reflected that of a jail cell, because then it made sense.
In Roxie's courtroom scene, the location was supposed to represent a courtroom, but instead, the judge was hanging from one of these bars. That didn't make sense. Also, the judge was wearing a hat, which seemed out of place.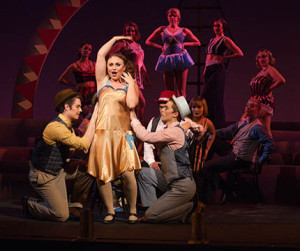 Some other technical difficulties happened throughout the show.
Hotshot lawyer Billy Flynn, played by Nathan Chester, dealt with some wardrobe problems. His mic stopped working in his first musical number, perhaps from opening and closing his suit jacket too aggressively.
Chester realized his mic was not working, so he attempted to project his voice out, but you could not hear him over the band.
His clip-on tie also fell off in one number. He handled it well, continuing as if nothing was wrong.
The band was pretty loud. Sometimes it was hard to hear the chorus or understand the singers.
I loved the drama and the style of the choreography. I think they did a beautiful job with it.
A character that stood out in the show was Amos Hart, played by Bryson Kenworthy. He was the oblivious, goofy husband of the adulterous Roxie.
The crowd loved him and empathized with him feeling invisible, perhaps because the theater was filled with so much teen angst.


Another crowd favorite was Billy Flynn, who was perfectly cast for the role and kept me enthralled and entertained. He even executed a perfect back flip.
Matron "Mama" Morton, played by Lexi Poindexter was one of my favorite characters. She added depth to the show, and her vocals were some of the best Tuesday night.
"Chicago" ended with Roxie and Velma performing a duet together. Maple and Reinsfelder had terrific chemistry and ended the show on a high note.
Overall, "Chicago" was enjoyable, entertaining and exciting to watch. The technical elements were good, and I loved watching it. I feel that the cast could have used a few more rehearsals, but they did produce a terrific show.
I suggest you see for yourself.
"Chicago" opened to UCM students and the general public Wednesday night in the Highlander Theatre. "Chicago" will be in the Highlander Theatre Thursday through Saturday at 7:30 p.m. and will have their final show Sunday at 2 p.m.