Thompson, Sojka historic over weekend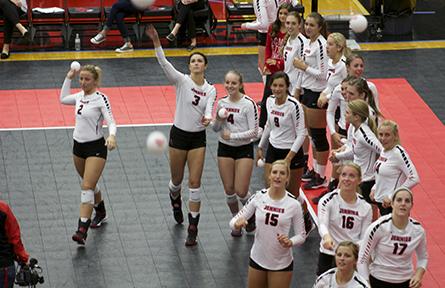 By MARQUIS JONES
Reporter
(WARRENSBURG, Mo., digitalBURG) — With the start of conference play, the Jennies volleyball team had a record-breaking weekend. After losing their first conference match of the year and going 1-1 on the opening weekend of MIAA play, the Jennies returned home last Friday looking to gain some momentum against Fort Hays State and the No.16 ranked Nebraska-Kearney.


Central Missouri (16-2, 4-1 MIAA) fell to No.13 in the AVCA Coaches poll after suffering a loss to Central Oklahoma Sept. 25.
Friday night against Fort Hays State, UCM caught on fire, building an 8-2 lead before taking the first set 25-14. In set two, the Jennies again jumped out to a large lead. The Tigers couldn't keep up as the Jennies won the second set 25-19.
Late in the second set, senior libero Annie Reilly landed her 200th career ace, a huge milestone that has only been reached twice in UCM history. Reilly was not done as she picked up two more aces in the third set giving her 202 in her UCM career. She is second all-time in aces. The record is 289.
UCM swept Fort Hays as the Jennies took the third set 25-11. Junior Maddie Jones was the top offensive player for the team as she also had a career high of 16 kills on 24 attempts with no errors for a .667 attack percentage, the highest of her career.
The Jennies hosted No. 16 Nebraska- Kearney Saturday evening. One of their tougher challenges, the Central Missouri was prepared as more UCM players had career highs.
Senior Carly Sojka and Junior Kourtney Thompson had great chemistry as the Jennies defeated the Lopers in four sets, 25- 23, 25-20, 27-29, 25-21. Both Sojka and Thompson had career nights, with Sojka setting a new high with 31 kills, and Thompson bettering her career-mark with 62 assists.
"It's the best feeling ever to play at home because our fans, especially Saturday night, were crazy," Thompson said. "So we were getting really pumped up for that."
Putting up 94 combined assists for the weekend, Thompson was named the MIAA specialist of the week alongside Sojka who was named MIAA Hitter of the Week for the third time this season and the eighth time in her career. Sojka was also named AVCA Player of the Week.
"I really don't look at stats much," Thompson said. "We feel more confident. We had high goals going into the season and we are progressive with what works best, but mostly confident knowing we can go to the next level."
Other Jennies who had big contributions against UNK were junior Cheyanne Lyons, who reached 10 kills for the first time, and Maddie Jones, who had 11. Sophomore Kasey Hohlen had five of the team's seven blocks, and Reilly had four assists, two aces and 30 digs.
"It's definitely going to get harder as we go along, because injuries are going to start and we are going to have to work around that," Thompson said. "School work is always piling up either way. It just gets harder from here."
Thompson said she has short- and long-term goals for the rest of the season.
"My goal is to get less doubles because that's the thing that goes right through me every time," Thompson said. "But our team goal is to win a national championship, and this team can do it. We have the talent to do it."
With their most recent win Tuesday over Lindenwood, (25-21, 25-10, 25-20), UCM improves to 16-2 this season and 4-1 in the MIAA. The Jennies return home Friday for a match against Missouri Western at 7 p.m. before facing Northwest Saturday.