Opinion: I drank two beers at Spin! during the Mules game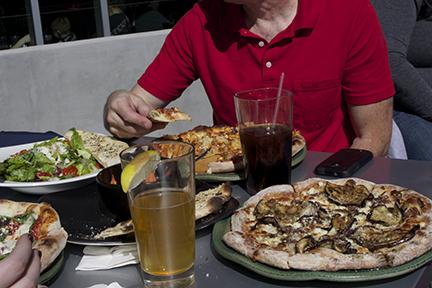 By ALEX AGUEROS
Sports Editor
(WARRENSBURG, Mo., digitalBURG) — There are few things around a college campus more universally appreciated than pizza and beer. Football is one of them, right up there with coffee, snow days and Drake mixtapes. I enjoyed half of these things watching the Mules dismantle Missouri Southern 54-10 from the patio of Spin! Pizza Saturday afternoon.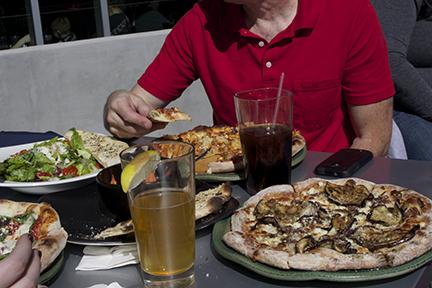 Spin! Pizza, as with the rest of The Crossing – South at Holden, is supposed to function less like a border around campus and more of an accessible, "front door" to Central Missouri. In a news release, president Chuck Ambrose said the pizza chain would bring the campus closer to the Warrensburg community.
"It's the type of gathering place our students will enjoy, but it's also the kind of enterprise that will make UCM a destination spot for members of the Warrensburg community," Ambrose said.
It's a tall order, appealing to both the rural, conservative Warrensburg community and the young and transient student body. But, if that's Spin! Pizza's goal, I think they're armed with the right materials.
Kickoff was at 1:30 p.m. Half an hour prior, I met junior digital media production major Lindsey Adell and her parents visiting from Lee's Summit at her apartment. Dwight and Diana Adell were in town for Family Weekend and were thrilled to watch the game from the patio, even if it was for a story.
"You can't quote me on anything," Dwight joked when we got to our table. "Just kidding. You can quote me on whatever."
The biggest crowd of the year — more than 10,000 — was the highlight of our view from the patio. Dwight and I agreed that, if we really wanted to watch the game, we'd have brought binoculars.
Fortunately, the Mules put us at ease in their second drive, just as our appetizers – roasted red pepper, goat cheese and ricotta dip with rosemary flatbread – were served. In fact, it felt like every time I glanced, the Mules were scoring and the Lions were punting. Central Missouri was playing well, and in front of a tough audience.
"At least (the Mules) are playing better than the Chiefs did Monday night," Diana said, referencing Kansas City's 38-28 loss to Green Bay earlier that week. "That was pathetic."
We ordered pizza and I drank a Boulevard as the Mules piled on more points over the scoreless Lions.
"Who's Alex Strong?" Dwight asked. "He is really good at not quite scoring."
We laughed, but it was a fair observation. Strong, redshirt junior, had two 30-plus yard receptions in the red zone to set up Central Missouri touchdowns. Going into Saturday's game, he had three receptions for 31 yards. He finished with five receptions for 113 yards (and zero touchdowns) against Missouri Southern.
I ordered the Melanzane pizza, topped with eggplant and onions and goat cheese with whole-wheat crust. Lindsey ordered the Primavera, topped with mozzarella, roasted red peppers, spinach, red onions, mushrooms and goat cheese with original crust. If you like goat cheese, Spin! is your place.
Lindsey's dad ordered barbecue chicken and pineapple and her mother ordered an 8 color salad.
I enjoyed my eggplant pie, more so than I enjoyed Lindsey's cheese and spinach pizza. Dwight was so infatuated with his barbeque pizza he could hardly follow the game during UCM's 24-point second quarter.
"I think I missed one!" he said after UCM scored another touchdown. The score was 31-0.
Spin! offers "specialty" pizzas. But, for a part-time slob like me, the specialty ingredients – goat cheese, gluten-free crusts, rossa or Bianca sauce – felt more like novelty. We joked that the bees, flying around our table's umbrella and soda, were also from Naples, Italy.
"I'm a college kid from Warrensburg," I thought. "I eat cheap, greasy cheese pizza from gas stations and Little Caesar's. Where does Spin! fit in here?"
I ordered my second beer.
Spin! Pizza is the only on-campus restaurant, besides Traditions at Pertle Springs, which serves alcohol.
At halftime, restaurant general manager Victor Brummel talked to our table. He said selling alcohol – especially on a college campus – comes with responsibility.
"That's been a huge sticking point for us," Brummel said. "It's a huge responsibility. It would look bad on us as a company, as Spin!, it would look bad on UCM, if something were to happen. It's been very important for us."
Employees have even turned down an administrator who lacked proper identification at the bar.
"She wasn't upset at all," Brummel said. "She said, 'I appreciate that.' That's the kind of stuff we want to happen."
Brummel, who was twirling pizza crusts both times I talked to him before halftime and doused in flour for the interview, is a 2011 UCM graduate. He worked with Spin! at Kansas City, Missouri and Omaha, Nebraska before returning to Warrensburg.
"It's good to be back," he said.
The pizza was boxed, the bill was paid and I finished my beers before the third quarter. While the patio tickets were good for the entire game, we were served at a normal restaurant pace. To get the most for your tickets, one would have to spread out the pizza and drinks throughout the game.
The lounge and patio are mostly booked for Central Missouri's Homecoming game Oct. 24 against Northeastern State. Brummel said the demographic for those reservations were mostly older fans looking for a quieter place to watch the game.
There was a group of fraternity members and their family at the table next to us, and, looking at them, I thought if I stayed another half to drink I would get rather drunk.
Central Missouri pushed the score to 52-0 when we were browsing the new University Store. The place looks like a Dick's Sporting Goods, another venue not yet seen in Warrensburg.
All these new franchises, including but not limited to Buffalo Wild Wings, Starbucks, IHOP and Spin! Pizza seem to be fighting for both a piece of the student body and a niche in Warrensburg. The Spin! Pizza patio experience was good to me, but pleasing an ever-flaky population of twenty-somethings and the city of Warrensburg present stark contrasts. How do places appeal to both? What's the draw? I remember asking the front of the house manager, Leigh Pierce, that exact question before we ordered.
"You can sit here, have drinks, watch the ballgame and not have to worry about the stands or parking," Pierce said. "Really, we're so new to this, we're just kind of figuring it out."
Being new has its appeal, but a more focused vision may pay dividends for Warrensburg's newest pizza joint in a scene full of new places. Personally, I'm rooting for Spin! to figure it out.