Big Pink Week: FSL spreads breast cancer awareness
By LIZZIE RIDDER
Reporter
(WARRENSBURG, Mo., digitalBURG) — With efforts beginning all across the country, October kicks off National Breast Cancer Awareness Month. From coast to coast, individuals are banding together to bring attention to this life-changing illness. Many people are already aware of the existence of breast cancer but they forget to take the necessary precautions that could detect the disease in its early stages. Although these endeavors are happening throughout the nation, events are also taking place here in Warrensburg.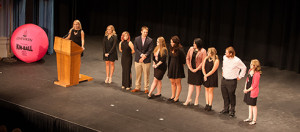 Monday started the Big Pink Think Week. Aimed at raising funds and awareness, the main goal of the event is to make a difference, especially on campus and in the surrounding community.
"I've been affected by breast cancer because both my grandmas have had breast cancer," said Katie Pavlica, junior early education major. "To myself and my family, it's very important to get the word out and that it can happen to anybody."
UCM's Fraternity and Sorority Life hosted an awareness night Monday in Hendricks Hall to kick off next week's Big Pink volleyball tournament and its related activities. Teachers, students and doctors made up the list of guest speakers who gave moving testimonies and personal experiences. Amy Francis, senior safety management major, said she lost her mother to breast cancer at the young age of eight. Francis' touching words and intimate description of her mother's life left listeners with a sense of just how impactful this disease is.
"I miss her each and every day, and I will continue to do everything I can to show my support to breast cancer awareness," Francis said.
The speakers brought out a sense of deep compassion, and deep feelings radiated through Hendricks Hall. Dan Plot, Elliott Student Union operator, said his opportunity to speak is "a chance to pay it forward."
"Your efforts make a difference," Plot said. "The activities that you guys are doing make a difference. The support and knowing that someone was there made a huge, huge, difference in our lives."
Whether it's $100, $2 or even 25 cents, all donations are accepted. All proceeds will go to benefit the Ribbons of Pink Foundation and the Johnson County Cancer Foundation. From the volleyball tournament, to the raffle, to bra decorating and everything in between, Big Pink Think Pink Week hopes to bring the community together and support those affected by breast cancer.
"Support each other, support your family members, support your friends, support people that you don't know who are going through this," said Amira Ghazali, a doctor who spoke at the ceremony. "When one part of the human race aches and ails, it's like the rest of us really feel it."
The Big Pink Volleyball Tournament is scheduled for Oct. 4-7 in the Student Recreation and Wellness Center beginning at 5 p.m. each day. The theme is "Caution: A Cure in Progress!" Registration closed Tuesday for Big Pink volleyball teams, but students can come dressed in pink attire and cheer on competing teams.
Each year, it's estimated that 220,000 women in America are diagnosed with breast cancer with more than 40,000 of them not surviving the disease, according to the National Breast Cancer Foundation.
For information on how to spot early signs of breast cancer, visit breastcancer.org.