Two Mules, one Mo: The story of a mascot
Story by DeLena Dreasler, for The Muleskinner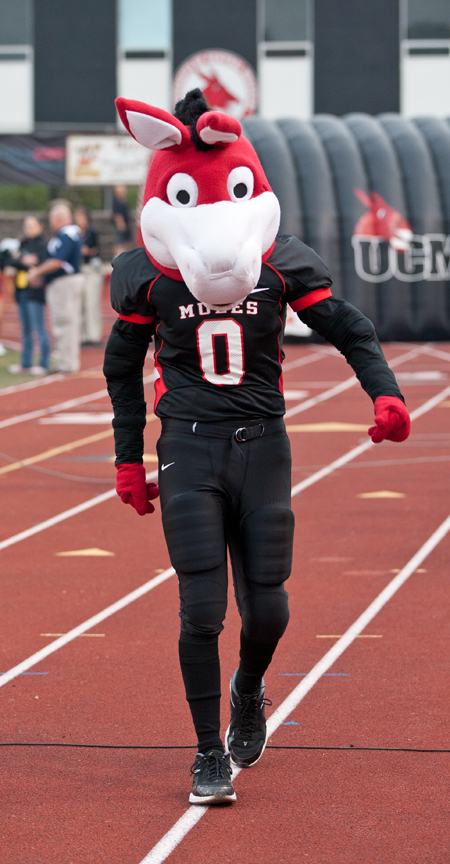 James Ingram and Matthew Sharp make quite the team. As the men behind the mask of UCM mascot Mo the Mule, they have learned to work together to create the friendly mascot the Warrensburg community has come to know and love.
Sharp is a freshman at UCM and is majoring in digital media productions. "I did a few things like this in high school," he said. He mentioned being a mascot for the Kansas City Command during Arena Football Week.
Sharp said becoming Mo the Mule was not planned. "It was a fluke, really. I was so blessed," he said.
He recalled the day he received the scholarship. "I was at discipleship and feeling so stressed, I was really struggling," he said. "I got that phone call and it was such a blessing."
Ingram is a senior and a tourism major at UCM. He has been Mo the Mule for two years. Like Sharp, Ingram also believes becoming the mascot was a windfall. "It fell in my lap," he said.
In his first year on campus, Ingram attended a community adviser training session where pictures were being taken of students in the Mo the Mule costume head.
A mention was made to Ingram that a position was open for a new Mo the Mule. "I thought it could be interesting," he said. He recalls the phone call from Coach John Culp. "I remember hearing Coach's voice telling me 'James you are the next Mo the Mule' and it was so awesome," Ingram said.
Ingram is not only a student and university mascot, but also a community adviser in East Ellis, a student ambassador for campus tours, and a student leader for the Navigators, a non-denominational Christian group.
With all of these responsibilities, Ingram still has time for fans. "The kids around here grew up with Mo. I feel the need to support the image of Mo as the face of the friend to our community, for the kids and the adults. Maybe I could make someone's day, or year, or life. I would be proud."
Ingram and Sharp spend up to 12 hours a day suited up as Mo the Mule and Mo's handler to attend every sports game and campus event.
Some people may not realize that Mo has his own assistant to help him walk down the stairs or make his way through a crowd.
"Put your hands in front of your eyes like pretend binoculars and that is how Mo sees," Ingram said. "So we always have an extra person right beside Mo to be the mouth and eyes of our mascot."
As far as future Mo's, the pair had some advice to give. "No matter the reason you started, your motivation must be for the people. If you don't have the heart [for people], it isn't for you," Ingram said.
"Don't be afraid to step outside your box," Sharp added. "Pitch your fears and worries out, because when you are not you, you are Mo."
The guys also have a few ideas of their own for the future of Mo. "We want to pitch the idea of a Jenny," Sharp said. Many division I teams have two mascots and Ingram said he thinks UCM should be the same. "A female mascot for all the women's athletic events and as a team-up for all of the university would be great. We need a face to represent spirit for the women on campus," Ingram said. "You do not have to be a guy to be a mascot. Mickey has a Minnie, why not Mo and Jenny?"
"Mo is a rock star," Ingram said.