No. 7 Jennies volleyball start season hot
By MARQUIS JONES
Reporter
(WARRENSBURG, Mo., digitalBURG) — Jennies volleyball had a hot start to the season with five wins in a row at the Peggy Martin Challenge last weekend.


Not only did they go undefeated at the challenge, the Jennies did not lose a single set.
The season opened Thursday with the challenge at the Multipurpose Building. Annie Reilly and Carly Sojka led the Jennies to a strong start of the season and were named Co-MVP's of the challenge.
Reilly and Sojka were also named MIAA Players of the Week.
Reilly led the defense with 71 digs and 54 service receptions.
Sojka landed 57 kills in five matches last weekend with a .336 attack percentage. In the opening match against Western State, she had eight aces – tying the school record.
"I don't think age has played a role this year because we have so many people going in and out," Sojka said. "And (head coach) Flip (Piontek) can tell you that he played 14 people for a few games this past weekend, and that's a lot of people to get into a volleyball game."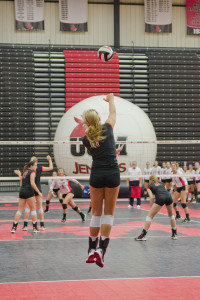 Redshirt junior Mackenzie Harding said the team's off-court relationships contribute to good teamwork this season.
"We have so many of us who live together off the court, and at practice we are always smiling and enjoying each other," Harding said. "We have great chemistry right now. Having so many seniors and juniors we know what's expected."
Thanks to the success from this past weekend, the Jennies moved up six spots to No. 7 in this week's AVCA coaches poll. The Jens have won 15 straight sets. The last time they did that was Sept. 6, 2013 when they went on a 23-set win streak.
The Jennies are ready for their next set of games against UC-San Diego and the University of Tampa at the Colorado Premier Challenge Friday in Denver. UC-San Diego is one of the top teams, and Tampa, the 2014 national champion, remains first in the AVCA rankings.
"This coming weekend will show where we are at and show more flaws because we are playing really good competition," Harding said.
Some of the Jens wear wristbands with the date 12-12 imprinted on them – when the Elite Eight begins.


"We are setting the bar really high for ourselves," Harding said. "Along with that is our goal to win conference."
The Jens are taking it one game at a time this season. Even though they play Tampa at the Colorado Premier Challenge, the Jens are focused on UC-San Diego since that's their first match Friday.
"Tampa plays a lot of volleyball like we do," Sojka said. "Tampa is Central Missouri. We are playing ourselves basically. I wouldn't say we look so in-depth into Tampa, we are not worried about Tampa. We know how Tampa plays.
"We are looking at one team at a time. We are working on San Diego and working down the line as we go."
Marquis Jones can be reached at 660- 543-4050 or [email protected].