Faculty echoes Hart Recital Hall (COMMENTARY)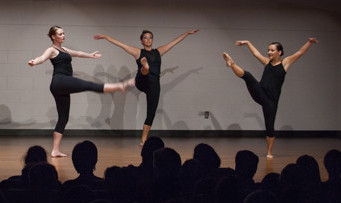 By AISHATU SAID
Reporter
(WARRENSBURG, Mo., digitalBURG) — Hart Recital Hall was packed with students, faculty and staff Aug. 26 to listen to the sounds of the provost's annual Faculty Showcase, "Passion From the Hart."


The university faculty performed 10 musical compositions total. From an original piece by Eric Honour on saxophone to a dance routine, the audience seemed to enjoy the variety of compositions.
The staff showed their spectacular prowess during each of the musical compositions they performed. Their skill was apparent and the music was wonderful.
The audience was treated with an original composition by Honour on the saxophone and computer. A much more serious and perhaps more enchanting cover of George F. Handel's originally comic opera "Umbra Mai Fu" from "Xerxes," was also performed by Kristee Haney as mezzo-soprano and Mai Hynes on piano.


During the "Umbra Mai Fu" cover, Ashley Miller, Nellie Maple and Claire Bessenbacher performed as dancers.
Following the show, the audience and musicians were invited to the reception in the courtyard for refreshments and fellowship.
Waiting in line was music student Claire Campbell who said she was impressed with the faculty's performances.
"I was very impressed with the faculty, as a music student I'm looking forward to working with them," she said.


Megan Goings, another music student, said she also enjoyed the showcase.
"It was amazing to see the faculty and staff… that I might perform like that as well," Goings said.
Travis Garrison, an instructor of music technology and composition, said the whole show was amazing.
"I enjoyed seeing the diversity that the UCM staff represented," he said.
For more information about the music department or upcoming events in the Performing Arts Series, visit ucmpas.com.