Jennies volleyball preview: MIAA champs have familiar roster, goals
by Marquis Jones
Reporter
(WARRENSBURG, Mo., digitalBURG) — Most teammates during summer rarely see each other, but that's not the case for the Jennies volleyball team. Coming off their trip to China in late May, the Jennies picked up right where they left off last season.
Jennies volleyball finished their 2014 season at 22-9 overall, after a four-set loss to No. 6 Wayne State (Neb.) at the Central Regional Tournament.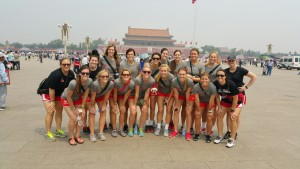 After losing only one senior from last year, head coach Flip Piontek said having strong depth in returners makes the job a little easier as a coach.
"You're not starting from ground zero," he said.
The Jennies return five starters plus their starting libero, from their 2014 squad that won their second-straight MIAA Championship. Among their returners are AVCA All-Americans Annie Reilly, Carly Sojka and Haley Thompson.
Reilly, Sojka and Thompson started all 31 matches last season and played all 109 sets. Reilly was the team's defensive leader with 615 digs and a 5.25 digs per set, which ranked 22nd and18th in Divison II and second in the MIAA. She also led the MIAA and was ranked third in the nation in aces per set.
Sojka led the team with a career high 446 kills 4.09 kills per set, which ranked 24th and 18th nationally. She also led the team in points and points per set.
Thompson set career highs in kills and kills per set last season. Her .318 attack percentage was tops on the team and second in the MIAA. Thompson also led the team in blocks per set, solo blocks and block assists, where she was also ranked in the top 10 in the MIAA.
"Talentwise – I have been doing this for 30 years – and we have as much talent as we ever had on the court," Piontek said. "Our goals are high and we would like to win the conference again. We would like to qualify for postseason play again. Our early season schedule before conference play will give me a better indication if we can accomplish those goals."
The Jennies are ranked No. 13 in the 2015 AVCA preseason poll with 578 points. No. 5 Nebraska-Kearney and No. 14 Washburn are other AVCA ranked conference opponents. The MIAA coaches selected the Jennies to repeat and win their third straight MIAA title in their preseason poll.
"The recognition you get for the beginning of the year are from the last awards you get from the last year," Piontek said. "As a team we haven't addressed it or mentioned it, because it's the recognition from last season.
"It's nice, I'd rather be ranked first or 13th than last, but it really has no effect on what we do."
With nearly three weeks of preseason practices and a couple of scrimmages played last weekend in Columbia, Missouri, the Jennies are fast-approaching the end of preseason. Nevertheless, Piontek is satisfied on what he is seeing from his team this preseason.
"I want to see if they came back in shape and ready to play volleyball," Piontek said. "Because our season goal is quite large, and if they start off physically behind then that's not a very good thing because I don't like wasting practice time on getting in shape. And you only have a certain amount of time to get into shape."
Piontek also said he is looking for who fits where on the court.
"(We are) just trying to figure out possible combinations," Piontek said. "Working in small groups and seeing who can go next to who.
"The first part is getting your feet wet and the last part of preseason is getting ready to play to most specific team type stuff."
Piontek said the experience surrounding the team will help new Jennies fit in.
"We have two sisters from Nebraska, Kasey and Kylie Hohlen. Their level of volleyball knowledge is very high, and if I had to pick two who could break into the starting rotation, then it would probably be the sisters because of their volleyball background."
The Jennies open their season Sept. 3 at 3 p.m. against Western State on their home court in Warrensburg, as they host the Peggy Martin Challenge at the Multipurpose Building.