Essay: Finding meaning, narration in clothing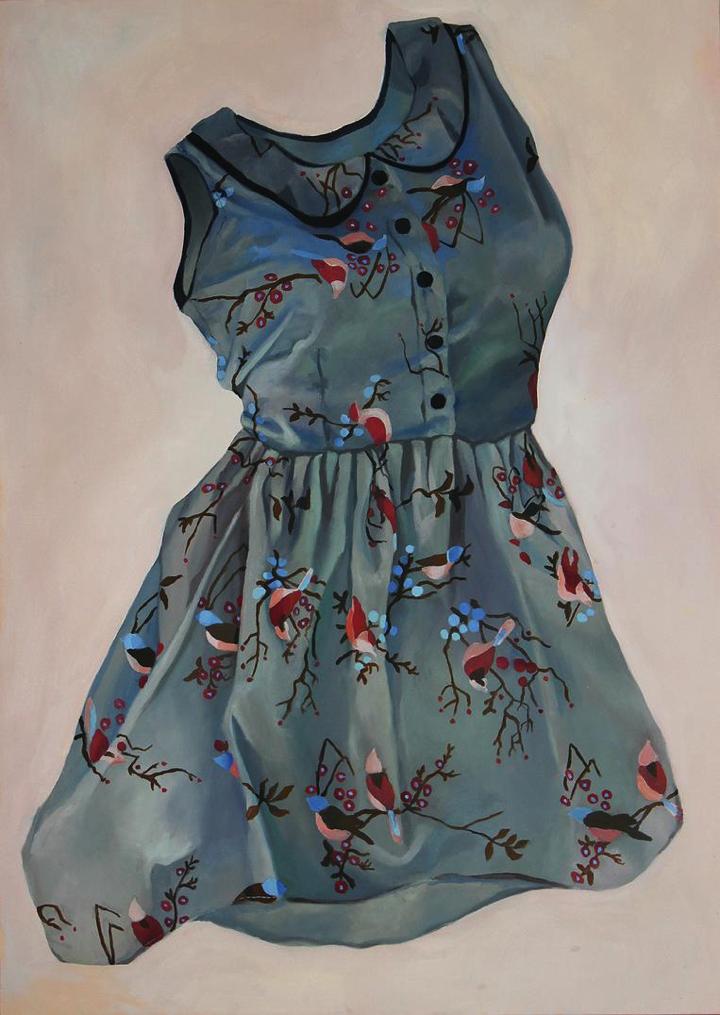 Editor's note: This is the third in a series of essays written by University of Central Missouri students about the work of a graduating art major's senior show.
By NOAH GOODWIN
Jenny Schreimann is a senior painting major at the University of Central Missouri who recently displayed her work at the UCM Gallery of Art and Design as part of the senior show. Her display consisted of five oil paintings, each of a personal article of clothing.
The paintings are similar in composition: The subject sits in the center of the canvas and appears to be floating but also appears to be worn (kind of like a ghost). The paintings are quite different in tone because her use of colors, prints, movement and garment type. These paintings are slightly larger than life-size, perhaps to show importance and to create a more intense interaction with the viewer. Schreimann's work seems simple: The paintings have solid colored backgrounds with close and intricate attention to details on the designs, but upon closer inspection the paintings hold more complex ideas, especially if you know the history of the medium.


Schreimann's paintings hold some realistic qualities. She is able to capture the textures of the clothes, whether it is from a dress or a bikini, and it feels as if the viewer could wear the clothing. The idea of women being seen as objects is hard to ignore when looking at her work. Schreimann's paintings contain only women's clothing and even without a body, male dominance is implied with such feminine objects. This statement can be recognized through one of Schreimann's paintings titled "Exposure," featuring a bright bikini with a subtle brown background. This painting is quite different from the rest of the paintings in her series because it features less conservative clothing. Even though the painting is not a nude, it takes the idea of men viewing women for pleasure.
Schreimann varies in style and approach as she paints her clothes. She considers her style to be associated with social-realism, symbolism and narrative art. Unlike the Renaissance realist approach, Schreimann pulls out colors in the clothing to make the piece more expressive. An example of this is in a painting of her bird dress. It is grey in reality but it reads more blue and green in her painting in order to better connect with the other hues throughout the piece. Clearly she wants her objects to illustrate much more than wealth or status.
Schreimann's oil paintings are self-portraits with an absence of the human figure, but the figure is implied by the movement of the clothing. Each of these paintings has a solid colored background perhaps to juxtapose the idea of a dress just being an object instead of taking on a relatable form. The purpose of the paintings is to record memories in her life, and the prints and folds hold deeper meaning that relate to significant events. Schreimann's goal was also to make the pieces relatable to the viewer.
An example of this can be seen in the painting "Unwelcome Guest." The dress is bluish-grey with red and blue birds sitting on small branches with little blue and red flowers scattered evenly throughout the fabric. The dress is sleeveless and has rounded collars with buttons going to the waist. The background is a pale salmon color that is also found in the birds. The meaning behind this piece relates to Schreimann's love of birds that she shares with her grandmother.


Another one of her pieces actually contains her grandmother's dress. The painting is titled "Maxine" (after her grandmother), which is brown with a subtle plaid print also featuring a necklace with a bird on it. The dress represents her grandmother's personality via a necklace that was a gift to Jenny. It also represents intimate and meaningful relationships.
The paintings of Schreimann's clothing reflect her personality, which is emphasized with the paint. There is a painting titled "Funny Farm" featuring a light pink shirt with a similar collar to her bird dress. It has tiny pink and red flowers and the right shoulder is raised, giving the piece more action. The painting's tone is lively through its use of warm colors and a yellow background.


Another painting is a highly saturated red polka-dot dress with a light green background that helps bring the red forward. Unlike her other paintings, this is the only one that does not move as if it were attached to a human form. The dress is the largest of the other paintings and is set symmetrically down the center of the canvas resting on a metal hanger. The dress is quirky and classic, kind of relating to Schreimann's personality.
Schreimann's paintings are influenced by a number of artists such as Fairfield Porter, Jim Dine and David Hockney. From Porter she got the idea to focus on articles of clothing. Porter is classified as an abstract-expressionist. Jim Dine worked in three different genres: modern art, pop art and neo-dada. Schreimann's art is very different from Dine's but there are some concepts they share. Dine does many self-portraits that include his face and emphasize expression. The way Dine draws sculptures are similar to how Schreimann paints her dresses. Dine observes the objects carefully and puts life into them just as Schreimann does.
Hockney is a modern and pop artist and paints portraits, pools and landscapes. One untitled painting by Hockney features an old man wearing a red jacket with a blue sweater and a red striped tie. This painting reminds me of Schreimann's red polka-dot dress painting and they even have similar green backgrounds. Hockney, like Porter, is interested in the subject matter of family. Schreimann's social-realist style focuses on the subject of family because of its role in social structure (especially seen in "Exposure") and extends the work of these major artists to show how a new generation of artists will apply their principles.
Schreimann's senior show features pieces that are relatable and demonstrate interesting narratives that reflect her life. Through oil paint she holds some of the old and new ideas but strives to show her own voice in her work. Schreimann is a great contemporary artist with sophisticated ideas and excellent structure.
Noah Goodwin is an art major at UCM. He wrote this essay as an assignment in Beyond Beauty, a class on art and writing.