Essay: Finding inspiration in other artists

Editor's note: This is the second in a series of essays written by University of Central Missouri students about the work of a graduating art major's senior show.
By ANNA DREXLER
For students studying to become artists, it can be difficult to find who and what inspires you. Kyra Gross finds inspiration in exploring human nature, creating, investigating and designing.
A junior in the UCM art and design program, Gross uses graphite, charcoal, fibers, clay and painting to create her art. With an endless amount of talent and possibilities, Gross is able to make her imagination come to life with her artworks.
As a Warrensburg resident, Gross was able to fit into the art community shortly after starting college here. This made her more comfortable and willing to work in the studio more. She saw the work that others were doing and this made her want to push herself further. Her painting teacher, Annie Helmericks-Louder, has said that using the work of artists who inspire you is fine and she encourages it. Gross loved this philosophy and agrees with it completely. Alice Neel, Dana Shutz, Gustav Klimt and Paula Rego are a handful of the artists Kyra Gross looks up to. Their techniques and ideas show up in all of her recent pieces in some way.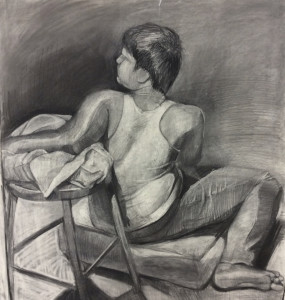 To look into an artist's sketchbook is to see a thought process. None of these things may make sense to anyone but the artist, but it is the beginning of a process. When looking through Kyra Gross' sketchbook, I saw everything she had done recently, only scaled down into a rough sketch. On many occasions a sketch of a painting was done multiple times with an explanation of each piece and a new revision each time, adding and editing things out each time. Her inspiration from Alice Neel, Dana Shutz, Paula Rego, and Gustav Klimt show up multiple times. Gross would print out pictures of artists she enjoys and tape them into her notebook as well as redraw them to get a feel for the way the artist might work.
Her talent, mixed with having upperclassmen friends, has made it easy for Gross to fit into the art community. After taking a painting class, Gross decided that she wanted to major in it. Even though painting is her main focus, she also dabbles in fibers, ceramics and drawing. When she first started taking drawing classes, she grasped the concepts of touch and overlap fairly early. Shading was introduced into her pieces and she applied it to her artwork well. She is able to create moods and stories from simple still lifes in her drawings.
The charcoal drawings "The Journey" and "The Light" have two different ideas that are successfully created. "The Journey" is dark and almost scary. It feels like someone has battled through hardships to make it to the top where the hand sits. The dead plant and skull push her shading to make it appear darker. "The Light" has an entirely different meaning that feels more breathy and airy. Using a lantern in the drawing with the head and body creates a symbolic meaning that is pushed forward with the light source.
Her grandmother had been big on embroidery and sewing but it never stoked Gross' interest. She had tried to learn some from her grandmother but she found it more interesting to watch than to do it herself. Until, she says, "One day last year I woke up and felt the need to embroider." From that moment she started with circle patterns. She later moved into square ones. Her aunt had miscarried on the toilet and Gross' piece "Toilet Birth" captures the life and death of that moment. In her other fiber series, she is able to capture deep emotional feelings, like in her piece "19/20" which shows emotional distress and the problem of people cutting themselves.
Gross has a way of making her art playful even in her ceramic pieces. Rather than creating actual people, she gave them personalities with vague faces. Her piece "The Most Unhappy Couple You Know" says it all in the title. The ceramic pieces look like an actual unhappy couple. The woman looks completely unsatisfied next to her husband who is wearing a crown to represent his dominance over the house. The family dog also looks disgusted. Another ceramic piece, "The Screaming Vase," looks like there are multiple images of the same woman who appears to be yelling in each depiction. Sometimes she seems to have a more pleasant expression on her face or a bored one and then an angry one. The spectator gets the idea that this woman is loud and obnoxious regardless of her mood. Kyra Gross has the ability to make her creations very distinctive with personalities and stories.
Figures immediately sparked Gross's attention when she got into the more advanced drawing classes. Capturing the human figure's gestures and motions caused Gross to become more interested in the human body. She later added stories to her artwork.
She likes to experiment as well. Gross will manipulate characters in papers and magazines, giving them speech bubbles and forcing them to talk together. This inspired her piece, "Painted Faces," which is of six different men. The men occupy their own square and have their own thought bubbles. The story of a love affair between two men is discussed between the six of them. One is upset that his partner is cheating on him. Her piece, "A Face That Cares for You" is of a young couple that has pink, almost saliva-like strings going between the faces. The painting depicts the intimacy between a couple, how comfortable they are with each other and the love that they have for each other. Unlike her painting of the men, the story is harder to understand when first looked at. After getting past the yuck factor, the painting feels relatable and interesting in a different way from the "Painted Faces."
Gross' approach to creating art could be the key to getting the drive and push to get beyond a beginner's comfort zone. The way Gross uses established artists to find herself is a genius way to start off before really figuring out what art that you're driven to create. Just by comparing Gross' work to the other artists that inspire her, it is easy to see where she gets her ideas. Even if she is not mimicking an artist entirely, she still uses techniques of other artists, even if it is a really simple technique. The community of Warrensburg benefits from all of the color and ideas poured into her work.
Anna Drexler is a freshman art major at UCM. She wrote this essay as an assignment in Beyond Beauty, a class on art and writing.