VIDEO: Professor receives Lifetime Achievement Award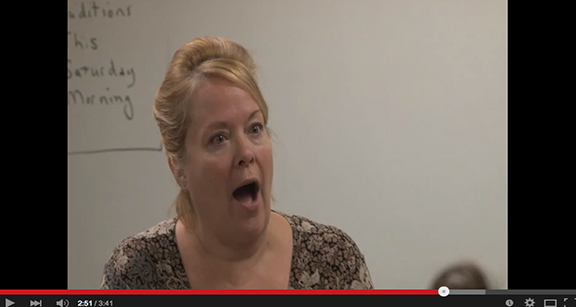 By JASMINE GRAYSON
(WARRENSBURG, Mo., digitalBURG) — Here on the campus of UCM, there's one professor whose lifetime has become an achievement, Dr. Julie Rae Mollenkamp.
"I was absolutely thrilled. It's such an honor to be recognized for work that you love to do," Mollenkamp said.
Mollenkamp was recently named the recipient of the 2014 Lifetime Achievement Award for teaching, scholarship and service by the National Communication Association Theatre Film and New Multimedia Division.
"I love being a teacher," Mollenkamp said.
"I find my students to be my greatest teachers, and that's the secret that nobody tells you about teaching, is that you get to learn everyday.
Mollenkamp is also the Meridith Harmon Sauer Distinguished Professor for Theatre at UCM.
"I'm not going to lie," Speech Communication and Theatre major Connor Bush said.
"She's a hard teacher. Her classes are really hard, but she really pushes the students to get the most out of them, and I have learned the most out of her classes."
Students have described Mollenkamp as intelligent and sassy when she instructs.
UCM Speech Communication and Theatre major Taylor Jennings said, "She relates things back to real world, and she also puts a lot of responsibility on the students for learning, which I think is great."
Mollenkamp says that her colleagues and students inspire her everyday at UCM.
"We have a department of professionals who work extremely well together," Mollenkamp said.
"We are all very different. We bring a variety of ways of thinking and ways of doing work to the table, and I think that's very exciting and challenging for our students.
It mirrors the professional world that we're sending them out into, so they learn how to think in a variety of ways, and how to deal with difference."
Communication professor Wendy Geiger says she's worked with Mollenkamp for over 10 years, and believes her award was very deserved.
"[Mollenkamp is] a faculty member who's interested, a faculty member who's engaged, and a faculty member who does care," Geiger said.
"So like I said, I can't imagine a better person to receive this award."
Mollenkamp says that the award was an honor, but her greatest achievement is becoming a mother.
"I've always wanted to be a parent, and becoming one in my late 40's, the joy that that brings me is tremendous," Mollenkamp said.
"It's also made me a better human being, which makes me a better teacher. His joy and discovery in the world makes me a better artist.
"It makes me think more holistically as I'm preparing my students to go forth 'cause I realize the impact they will have on his life, and the impact he will have on their life."
Dr. Mollenkamp says there is nothing much greater than watching her students become confident and seek new challenges.
"I just love to teach," Mollenkamp said
"I love being in the classroom. I love helping students think, discover things about themselves, empower them, you know, raise an expectation of them that's higher than they ever think they could achieve and then watching them achieve it.
"It's a great gig."
Despite her big-time achievements, she remains a small town's treasure; UCM's very own lifetime achiever.