Faculty show opens exhibition season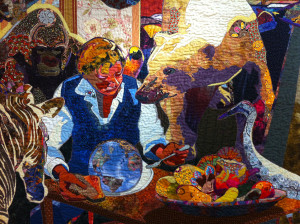 (WARRENSBURG, Mo.) — The Gallery of Art & Design at the University of Central Missouri opens its exhibition season with two faculty exhibitions.
The annual Department of Art & Design Faculty Exhibition opens Thursday in the Main Gallery. New work by John Malta, assistant professor of art and illustration, will open in Gallery 115.
In the Main Gallery, the exhibition will feature a variety of artistic mediums, including painting, sculpture and ceramic. The exhibition allows art and design faculty to showcase their professional practices outside of their university duties, according to a news release. This year will feature several emeriti faculty, and the opening reception is scheduled for 3-5 p.m. Thursday in the gallery.
Gallery 115 will feature "Drawn Drawings" by John F. Malta. This is a collection of illustration tear sheets from Malta's client work with The New Yorker, The New York Times, The Washington Post, The Willamette Week, and other publications.
The exhibition also features his installations, comics such as "The Professor and the Paperboy" published via Xeric Grant, and his new comic serial "BABOOM!" published by Space Face Books, and oversized illustrations from his travels over the summer to Los Angeles and Cleveland, Ohio.
The UCM Gallery of Art & Design is located in the Art Center Building at 217 Clark St. in Warrensburg, just across the street from the James C. Kirkpatrick Library. The hours are 8 a.m.-5 p.m. Monday through Friday, 8 a.m. to 8 p.m. Thursdays, and 12-4 p.m. Saturdays, or by appointment. Admission is free and groups are welcome.
For more information or directions, call 660-543-4498.