Local cafe has best sandwich in the state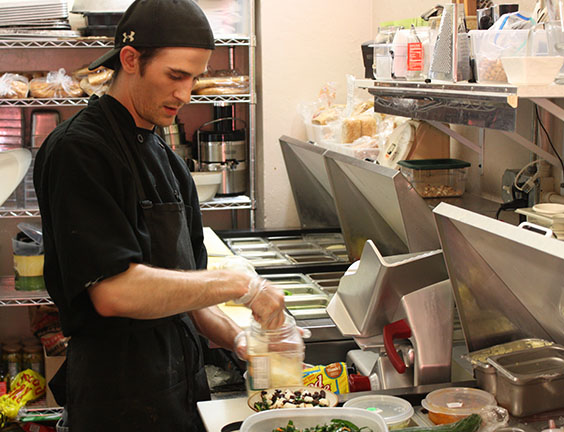 By KEVIN LYON
(WARRENSBURG, Mo., digitalBURG) – A Warrensburg restaurant has been selected as having the Best Sandwich in Missouri by Rural Missouri magazine's Reader's Choice Contest.
"In all it was tens of thousands of votes," Rural Missouri editor Jim McCarty said. "The fame of the cafe is spreading statewide."
Cafe Blackadder, located at 121 N. Holden St., is owned and operated by Julie Kendall, a 2006 University of Central Missouri graduate who opened her restaurant less than five years ago. After a profile of Blackadder was included in Rural Missouri last year, Kendall has seen a large increase in customers from all over the state.
"There's probably been a 10 to 15 percent increase, easily," Kendall, 32, said. "A lot of travelers and a lot of locals who didn't know we were here."


Their winning sandwich is the hearty turkey salami panini.
Cafe Blackadder started very small in October 2009. Blackadder was the maiden name of the owner of the Teehaus, the longtime coffee shop that occupied the space before Blackadder.
Blackadder started on a shoestring budget, with three crockpots, one refrigerator and a cooler of ice. Now the restaurant has a fully equipped kitchen and frontline serving counter.
"One in 10 restaurants survive their first year," Kendall said. "At the beginning, I had one employee and I worked 18-hour days. I just did it and now I'm here. It feels great."
Rural Missouri magazine has had a reader poll on the best eateries, destinations and activities across Missouri for 13 years. With 545,000 readers, winning their endorsement means something to a small business like Blackadder, especially during April and May.
Late spring is one of the busiest periods of the year for the cafe.
Blackadder is focused on locally grown food and being an environmentally responsible business. They have a selection of everything from a hummus starter plate to salads, sandwiches, chips and handcrafted artisan soups.
The feel and setup of the store are a major part of its charm. Sponsoring everything from musical performances to artwork, the Blackadder has an ambiance that larger corporate and chain restaurants have a hard time replicating.
Before opening Blackadder, Kendall worked at a chain restaurant as a general manager, raised their sales by 70 percent and still felt unsatisfied with what she was doing.
"I figured if I could do it for them, I can do it for myself," Kendall said. "There's a sense of pride in it, too."
Rural Missouri's editor came to know Cafe Blackadder through his son.
"My son actually eats there quite a bit," said the editor, Jim McCarty. "He's on the track team so he's healthy, and he's actually the one who told me about the place to begin with."
Kendall plans to celebrate the win by continuing to do what they do, with new seasonal dishes coming in as the summer progresses. The restaurant has developed long-term relationships with the local farmers that they buy from, making it easier for them to predict what they want to buy.
The café is certainly a team effort.
"I love working here," said Shelby Smith, a cashier and coffeemaker. "I've worked at other restaurants, and I'd say working here is like moving from an orphanage to a new home with a family. It's a huge difference."
Kendall said she sees herself as someone who makes art that people just happen to eat. She said she enjoys cooking and working in a close-knit community of like-minded people.
"If you don't love it, you won't do it," she said.
All of the winners are featured in the April issue of Rural Missouri. The digital edition can be read online at www.ruralmissouri.coop.
For more information about Cafe Blackadder, visit www.cafeblackadder.com or call 660-747-2382.