Homeless Help: Shelter a key community service
Editor's Note: This is the third and final installment in a series of stories about community partners who are helping to assist local people in need.
Story and photos by TAZ HALL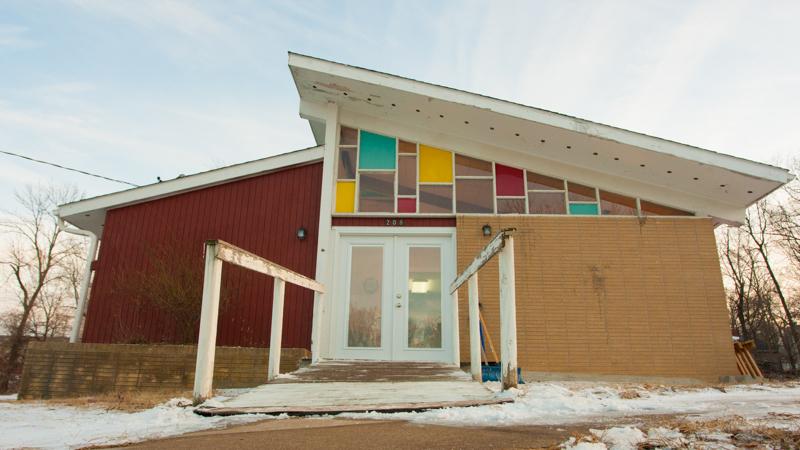 (WARRENSBURG, Mo., digitalBURG) – It's a bitter January night. A chilling breeze hits Suzy Latare's face as she shuts her car door and begins to walk across the newly paved parking lot of the Destiny House homeless shelter.

She's illuminated by a pair of headlights as a car pulls into the parking lot. The driver's side window rolls down and a man pokes his head out.

"Are they closed already?" a man says with a concerned look on his face as he awaits Latare's response.
She smiles and tells the man that it's only 8:45 p.m., and he still has 15 minutes to get checked in.
The man seems relieved as he rolls up his window and parks next to Latare's car. She waits patiently as the man shuts off his car and begins gathering his belongings from the back seat.
As he emerges from the car, his hands are more than full. With a diaper bag slung over his shoulder, he holds a car seat with a sleeping infant in his right hand and the hand of a boy, who cannot be more than 3 years old, in his left hand.
Latare beckons them to follow and the four of them enter the doors of the Destiny House. This is where the single father of two will be sleeping tonight.
Destiny Community Development Corporation, a nonprofit group operated by Willie and Inell Shields, has been active in the Warrensburg area since 2004. DCDC has managed a handful of projects including the Destiny Childhood Learning Institute, a preschool for underprivileged children; Destiny's Door to Recovery, a drug abuse recovery program; and their latest project, the Destiny House homeless shelter, located at 208 E. Emerson St.
"Our goal is to help people from the cradle to the grave," said Willie Shields, executive director of the Destiny House.
The shelter is equipped with 24 beds, three full bathrooms and one handicap-accessible bathroom, a kitchen and dining area, and a washer and dryer.
For safety reasons, the Shields family has reserved the upstairs for women and the downstairs for men. Destiny House also accommodates families with a six-bed family bedroom located upstairs. Downstairs is off limits to women during the day. Women are only permitted to go downstairs to do laundry during the day while the men are required to leave the house to go to work or look for jobs. Likewise, the upstairs is off limits to men with the exception of the kitchen and recreation room.



In addition to Destiny House's current accommodations, the Shields family say they plan to open a second building by the end of this year. The new building will be located adjacent to the current building and contain a full-size kitchen, dining room and recreation room. Upon completion of the second building, the current kitchen and recreation room will be made into another bedroom. Concrete for the new building has already been laid.
Willie Shields said construction of the new building will cost $150,000. However, Shields said construction of the second building has been delayed due to the costs of the $32,000 mortgage of the current Destiny House building. He said the Destiny House has ongoing operating expenses such as utilities, groceries and cleaning products that make it difficult to afford construction costs. Shields estimated that DCDC spends $600 a month on such costs.
However, these financial strains have not discouraged  DCDC's expansion plans. The group has a new website where people can make donations. Also, community partners like Cafe Blackadder and the Old Drum Coffeehouse are lending a hand by donating proceeds from certain sales to the shelter. Willie Shields said UCM recently raised $6,000 for the project with Shirts for Shelter, a T-shirt fundraiser from which all proceeds were donated to the Destiny House.


According to the Destiny House website, "Buy an almond butter-chocolate chip cookie from Cafe Blackadder or an oatmeal raisin cookie from Old Drum Coffeehouse and Bakery, and 35 cents of each 75 cent cookie will go directly to Destiny House to support our ongoing financial needs."


"The Warrensburg community is very supportive," Inell said. "I'm proud of this community."
One recipient of such community support, Gary Chaky, was able to get himself off the streets thanks to the help of his newfound friends at agencies such as Destiny House. By building relationships with members of Johnson County Cares, Willie Shields, and various nonprofit agencies in Warresnsburg, Chaky found his own apartment and the resources to sustain himself financially with veteran disability funds.


In return, Chaky decided to become a part of the solution. Despite being a disabled veteran with little ability to walk or stand for long periods of time, Chaky volunteered for this year's Point-in-Time Count. This is an annual project where volunteers help provide state agencies with local homeless population figures. Chaky says helping others has given his life meaning.
It doesn't take much to fall on hard times. Inell Shields said that the Destiny House sees people from all walks of life, including veterans, single parents and even full-size families. The difference between dependency and self-sufficiency can be as simple as building relationships with the right people.
To make a donation or to volunteer, visit www.destinyhouse.org.