Judge denies bond for international student
Story by ANDY LYONS (WARRENSBURG, Mo., digitalBURG) —
The two Warrensburg men charged in the murder of a Warrensburg bar owner were arraigned Thursday afternoon, and one of the men was denied bail.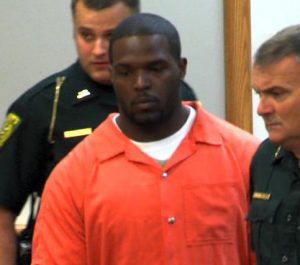 Reginald L. Singletary, 27, and Ziyad T. Abid, 23, were arraigned in Johnson County Associate Circuit Court on first-degree murder and armed criminal action charges.
Bond was continued for Singletary at $1 million while bond for Abid, whose home country is Saudi Arabia, was denied as Johnson County Prosecuting Attorney Lynn Stoppy filed a motion to consider Abid a flight risk.
Johnson County Sheriff Chuck Heiss testified that he spoke with Supervisory Special Agent Mark Fox, of Homeland Security, and determined that Abid was still a flight risk despite the fact that Abid had to forfeit his passport, travel documents and pilot's license.


Heiss said Fox told him that the Saudi government would seek to remove Abid from the U.S. if he were allowed to make bail. Heiss said there was little to nothing the local jurisdiction could do to prevent Abid from fleeing if he was granted bond.
"It doesn't serve the notion of justice in Johnson County," said Associate Court Judge Wanda Sue Dodson of Abid's flight risk.
After no rebuttal from Abid, who was without an attorney, Dodson ruled that Abid would be held without bail.
Warrensburg Police Chief Bruce Howey confirmed today that Abid would be tried in Johnson County despite rumors he could face deportation.
"He is not a prince, as rumor has it," Howey said. "He does not have diplomatic immunity and is subject to United States law."
Abid, his hands and feet shackled to his waist, smirked as he was escorted into the courtroom. There was a tense moment in the courtroom as he stepped in front of the judge and turned to faced the crowd, his face wearing a smirk.
Abid stated he plans to hire an attorney and the judge scheduled an attorney review hearing for both defendants at 1:30 p.m. Sept. 12. A preliminary hearing is scheduled for both defendants at 1:30 p.m. Nov. 7.
After a short recess, Singletary was escorted into the courtroom. Like Abid, his hands and feet were shackled to his waist. His expression was blank and he looked at the ground as he made his way in front of the judge.
Dodson read him his rights, including the right to an attorney. His voice was barely audible as he responded.
Both Abid and Singletary face the death penalty or life in prison without probation or parole if convicted of the first-degree murder charges.
[email_link]