Trying to break the streak
Story by JASON STRICKLAND, Sports Editor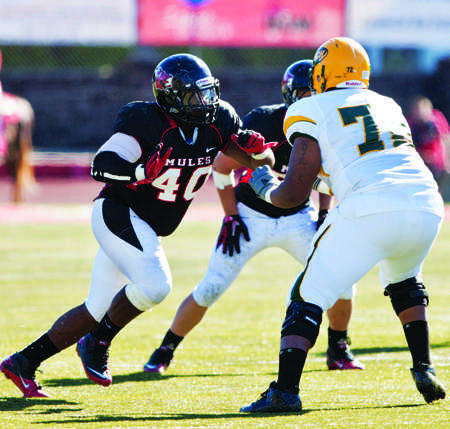 Walton Stadium is expected to be packed once again for the Mules (0-1) home opener against No. 3 Northwest Missouri State (1-0) Saturday, but the Mules have not beaten the Bearcats at home since a 37-36 win in 2001.
Northwest has won nine straight against Central — five of them in Warrensburg.
The past two Northwest games at Walton Stadium have set conference records for attendance — 13,096 in 2010 and 14, 377 at Homecoming last season.
The Mules will have to defend the run better than last season when they allowed the Bearcats to gain 308 yards off 55 carries.
"We have been talking about it all week," senior defensive lineman Reggie Dilworth said. "We are taking it upon ourselves to stop the run. Last year we felt like we were disrespected. They ran all over us. This year, we are not going to let that happen."
The Mules allowed 216 yards off 51 carries in the 38-26 loss to Missouri Western (1-0) a week ago. Dilworth said the defensive unit needs to communicate better.
"We are focusing more on our communication and our mental mistakes," Dilworth said. "We had some mental breakdowns between the front and the secondary."
Most of the Mules' struggles last week came in the first quarter and a half of the game. The Griffons were up 28-0 with about seven minutes left in the first half. Senior quarterback Colter Smith came into the game after junior Mike Petersen had to leave with a mild concussion.
Smith drove the team down the field for a touchdown in a little more than two minutes. After that the Mules outscored the Griffons 19-10.
"That was the real Mules football team in the second half," head coach Jim Svoboda said. "The first half we struggled and didn't respond. Maybe we were a little tight.  As soon as we shook it off we became more of the team I think we are going to be in the future."
Svoboda said they are taking it day-to-day with Petersen, so Smith could get the start against the Bearcats.
"[I'm just going to] come in and be prepared to win," Smith said. "Kind of like last week. Last week I was a backup but I came in with the mentality of if I get in I need to be ready to play. It's a little different but at the same time you've got to come ready to play when the opportunity is there."
Smith said red zone production will be important.
"The big thing last year that hurt us was finishing in the red zone," Smith said. "Northwest has a good defense. They bend but they don't break. It's our responsibility to go in there and finish in the red zone. That's going to be key to win this game."
Last season the Mules had a blocked field goal, two made field goals and a touchdown in the red zone against Northwest.
Even though Central and Northwest are battling each other on the field, they are teaming up off the field with the Make-A-Wish Foundation.
The Student-Athlete Advisory Committee's from Central and Northwest will be accepting $2 or more for yellow "Bearcats and Mules for Charly" wristbands in the parking lots prior to the 1:30 game Saturday. Northwest sold the wristbands at its home opener last weekend.
Charly Erpelding, daughter of former Northwest player Andy Erpelding, was recently diagnosed with Ewing's Sarcoma. Svoboda was an assistant coach at Northwest when Erpelding was a player from 1996-2000. Svoboda and his wife Susie are Charly's godparents.
"I'm not sure how the NCAA and the Make-A-Wish Foundation got involved with that but it's a game that two schools are uniting for a good cause," Svoboda said.