Community gathers to remember bar owner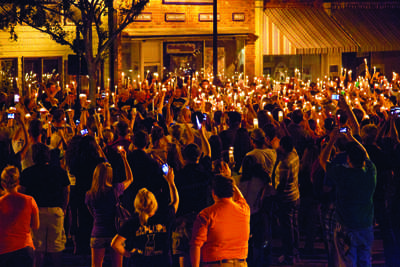 Story by ROB CURRY (Assistant News Editor, Muleskinner)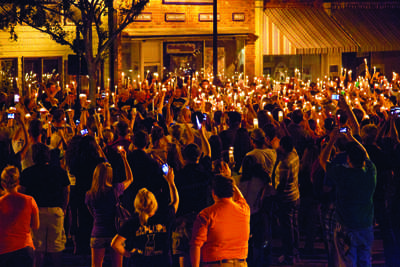 On September 1, just hours after the death of William "Blaine" Whitworth, Jessica Lewis and her roommate David VanderGeest, realized they would not be able to attend Whitworth's funeral services in Garden City, Mo.
Lewis, a UCM alumna, said she decided there should be some kind of service in Warrensburg, so people who could not attend Whitworth's visitation and funeral could say goodbye.
She created a Facebook event page for a candlelight vigil scheduled for 9:30 p.m. Wednesday. "I really hope the vigil helped bring some closure," Lewis said. "I don't even know, I just hope it helps heal them."
Lewis and VanderGeest invited everyone they knew, and soon the list of attendees exploded past 1,000. Let that number be a testament to how Warrensburg feels about Blaine's death.
Whitworth was the owner of the bars Molly's and Bodie's downtown, and a 2009 UCM alumnus.
"Blaine was a really hard worker, and he cared about his employees and the people he surrounded himself with," VanderGeest explained.
"When the page was being set up, we assumed just a couple hundred would show up. We didn't expect the entire community to come," he said.
"He was just a big-hearted guy. He was funny. Always smiling, telling a joke, or making a sarcastic comment," Lewis added. "He owned the bars, but he did it for people. He wanted everyone to have something to do downtown. He was never in the business for the money," she explained.
Lewis met Whitworth at her old job at Inks and Images downtown.
"He came in everyday for shirts, signs and banners for the bars. I talked to him a lot and we became really good friends."
The owner of Inks and Images, Randy Shur, invited Blaine's parents to attend the vigil.
A crowd of more than 1,000 people gathered around the front of Molly's Wednesday, wrapping around the street corner, pressing close to a roped off area and podium.
Prayer cards were handed out with Whitworth's smile gracing the front, and a prayer on the back which ended with the lines, "I'd like the tears of those who grieve / To dry before the sun, / Of happy memories that I leave behind / When day is done."
Lewis stepped up to the podium and began the speeches of those close to Whitworth. "Someone told me a great quote," she said, "'Death is a heartache no one can heal. Love is a memory no one can steal.' No one can take away all of the memories you have of Blaine, ever," she exclaimed.
Whitworth's father, Barry, spoke next. "When you see things on TV and read what you read, you can never imagine how parents can make it through something like this," he said, "but I can tell you how they do. It's faith, family, friends and people like you. God bless you."
Whitworth's older brother, Tyler, advised the crowd to, "Go forward and spread the good things that he gave you, the good friendships that he gave you. That's what we can take away from him, that he gave back."
Blaine's younger brother, Tucker, took the stand, his voice faltering a bit remembering his brother. "I had a brother I could look up to for anything," he said. "He helped me. I can remember when we were in the 6th grade, we were little, and we were getting bullied, and Blaine came running down the hall, slammed [a bully] into the lockers, and gave him the biggest death threat!"
Tucker added, "I learned from him everyday. Everyday I learned something, and everyday was valuable."
Blaine's mother, Diane, was the last family member to reach the microphone.
She stood at the podium in silence for a moment, and gave the short introduction,"I'm mom," to a crowd that rippled in quiet, sympathetic laughter.
"I think because of you, I have the strength to talk for a few minutes," she said. She took a moment to thank the Lewis for organizing the vigil. "I think we all need to recognize and acknowledge Jessica. I'm not trying to embarrass her, but this is because of this woman, Jessica. The courage, she had the courage and forethought to say 'let's do something' and look what you did. And you know Blaine loves this."
Diane also recognized Randy Shur of Inks and Images and the Curly Copy Center for making the prayer cards in 24 hours.
"We wanted to give something to hold on to," she explained. She thanked the Warrensburg police, Chief of Police Bruce Howey, the Missouri Rural Major Case Squad, the Main Street Inc., Charlie Rutt, UCM, and the staff of Whitworth's bars.
Diane also pointed out that Blaine's death marked the one-year anniversary of Bodies' opening under his ownership. "He always says 'yeah I work 365, 24/7,' so sometime when I you know, want to practice those math skills and figure out how much he worked," she said.  "Because, it was his dream to be a business owner in Warrensburg and give back.
"He loved being here, and being part of a community that he felt he was bringing, the university, the city and law enforcement together, to make things better for students. That's what he wanted."
One of Blaine's employees at Bodie's, Brittany King, said, "He's always the boss man that you wanted, that always pushed you to be someone better than you had yourself."
Once the speeches were finished, Diane led the crowd in the candle lighting.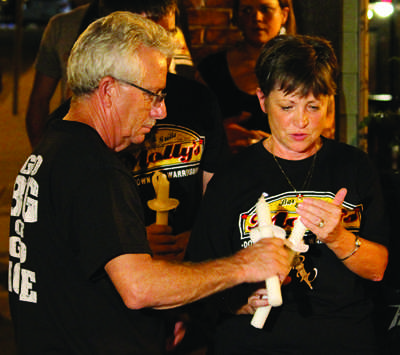 The crowd held the candles high in the air, fighting a breeze that made each flame shudder.
Diane led the crowd in saying goodbye to Blaine, and then the candles slowly went out around the crowd.
Diane summarized, "He wouldn't want us to be sad. He wouldn't want us to be mad. He would want us to be happy for the time we had together. He crammed a hundred years of life in those 25, and God decided he needed him to get things turned around in heaven."
T-shirts, key chains, and wristbands will be sold with proceeds going to a scholarship fund in William Blaine Whitworth's honor.
Let more than a thousand people tell you, he will be sorely missed.