Fresh of Breath Air in Downtown Warrensburg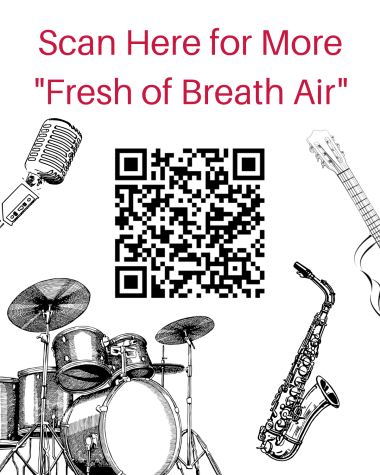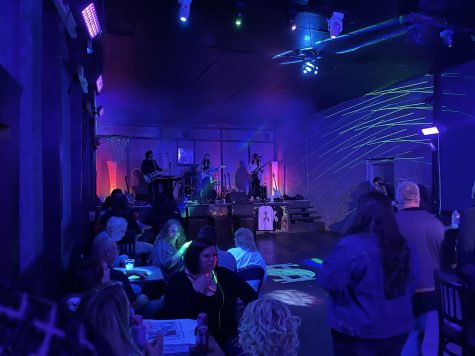 Downtown Warrensburg was host to the band Fresh of Breath Air on Jan. 16 at Bodie's Flip City. Fresh of Breath Air is an independant rock band from the Kansas City area consisting of Shelby Schulz, the lead singer who plays a wide variety of instruments such as violin, guitar and keyboard, Amanda Ard on bass guitar, Shawn Shoemaker on drums, and Coleman Arnold on guitar and backing vocals. Three of the four members, Schulz, Shoemaker, and Arnold are Central Missouri graduates, so the band was appreciative to have the chance to come back and play their music in a place filled with memories. To Shoemaker, the show was a milestone, saying, "it's super surreal to be back here." 
  Fresh of Breath Air played from nine p.m. till around midnight. Their set included some classic covers such as Tom Petty's "American Girl" and "House Of The Rising Sun" by the Animals as well as their own original pieces like "moon" and "feather". When asked about their style of music and influences, Arnold mentioned Japanese math rock and the band American Football as major influences. However, the group's music goes in many directions. 
  "It depends on the album," said Arnold. "I think it's just a combination of everything … It's complicated. It sounds probably pretty poppy but I assure you we're struggling. We have to engage our brains when we're playing those songs."
  UCM drumline was also mentioned as an influence, as the three members of the band who attended UCM, Arnold, Schulz and Shoemaker were on the drumline at the same time.
  "We had a lot of experience with the percussion teacher up there, Alex Smith," said Shoemaker. "[He is a] big influence on my drumming especially."
  Fresh of Breath Air's show at Bodie's seemed to be a good time for all those involved. As the Spring 2023 semester begins, Schulz and Shoemaker said that their message to UCM students would be to "just keep going," and to "enjoy it."
  To find out more about Fresh of Breath Air and their music, visit their spotify page here: https://open.spotify.com/artist/0ZX5d5P1QNu46vHZHPiKd1