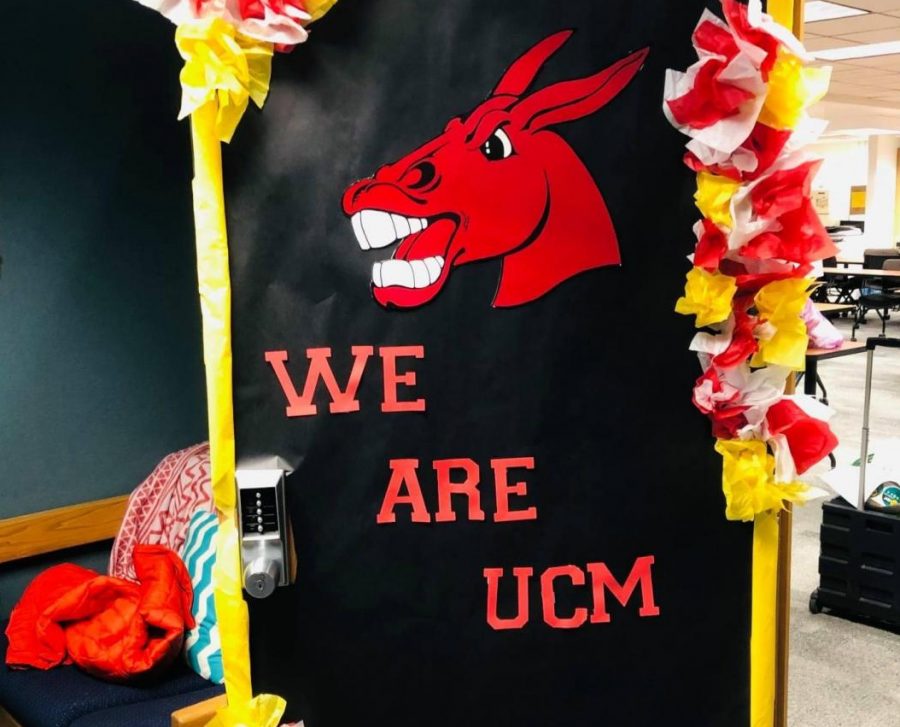 Photo by Student Activities
Warrensburg and UCM Celebrate School Spirit through Door Decorations
  During the week-long celebration called We Are UCM, students and their organizations, staff and local businesses participated to show their support of the university by decorating their doors. 
  Multiple Greek organizations competed, including Alpha Phi, Delta Zeta, Alpha Omicron Pi, Sigma Kappa and Lambda Chi Alpha. Some registered student organizations were Ladies Inspiring Versatility and Spotlight. There were also multiple university employees who participated. Employees from Academic Programs & Services, the McNair Scholars program, Office of Student Activities and a criminal justice professor. The local business who decorated their door was SC Fuel.
  Student Activities Assistant Director Christina Kerns advises the homecoming leadership committee, who planned We Are UCM.
  The winners of the competition were announced at the We Are UCM celebration on Friday Feb. 12, and Kerns said it was an exciting time to see how everything came together. Votes for the door decoration winners were solely cast via Facebook likes.
  "It was open to all, we did some intentional outreach, Kerns said. "We posted it in the UCM daily, we posted it through all our social media channels and we reached out to Warrensburg's main street to have community members involved."
  Alpha Gamma Delta and Tau Kappa Epsilon won for the organizations, criminal justice professor Benecia Carmack won for faculty and staff and SC Fuel placed first for the community. 
  Junior communication major Audrey Murphy is the manager at SC Fuel. She said it was very complicated to decorate a business door because there's only so much space with open signs and business hours.
  "I think it brings the whole community together, and it's not just the university," Murphy said. "I think the university has a lot to do with the community, but I also think that us being part of it helps a little bit with that too."
  Senior nursing major Bailey Schaefermeier helped decorate the Alpha Phi door.
  Schaefermeier said she believes door decorations were very useful because it was a way for everyone to come together.