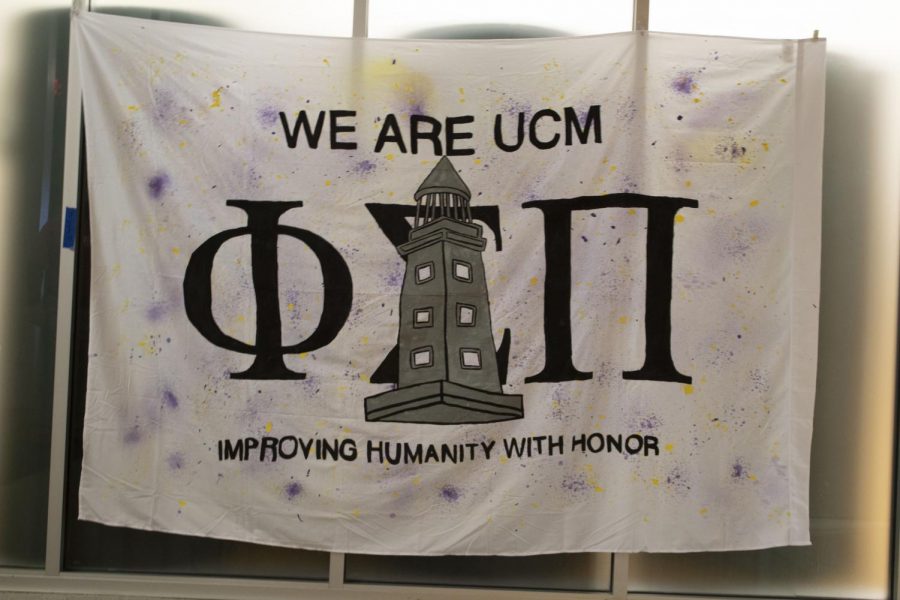 Photo by Skye Melcher
UCM Students Create Banners for We Are UCM Competition
 The University of Central Missouri hosted a Spirit Banner Competition for the We Are UCM event from Feb. 8 to. 12. The banners were placed around the Student Recreation and Wellness Center, with voting open Feb. 8 to 11. The top three banners were announced Feb. 12 at the We Are UCM Celebration, hosted at the SRWC.
  During events like Homecoming, monetary prizes are awarded to winners of events like the banner competition. However, the banner competition was a morale booster for student organizations on campus, who have had a number of events taken from them during the COVID-19 pandemic. 
  For students active in Greek life, We Are UCM was the first big event in almost a year in which they have been able to participate. Solomon Bailey, President of Alpha Tau Omega, was excited for some sense of normalcy for Greek organizations.
  "I enjoy seeing all of the Greek organizations exercise their creativity in a passionate effort to put their chapter at the top," Bailey said.
  Beth Rutt, the director of student activities, said the competition was open to any student or student organization on campus. In place of a window decorating competition, the spirit banners encouraged students to spread out more to work and still be able to social distance.
  "We used a popularity vote on social media and a 60/40 judges vote to balance out the awards," Rutt said. 
  Judges cast their votes based on how well the space is used in the banners, how the colors look and how well the banner ties into the overall theme, "Education for Service." It was announced on Feb. 12 that Phi Sigma Pi won first place, Alpha Tau Omega and Delta Zeta won second place and Tau Kappa Epsilon and Alpha Gamma Delta won third place in the competition.
  "I wasn't expecting to win, but I'm happy we did," senior Emily Hintz, who is the Brother At Large for Phi Sigma Pi, said. "We all came together and worked hard on the banner, so I'm glad all our hard work paid off."