Katherine Lee Fisher-Samuel Max Swisher wedding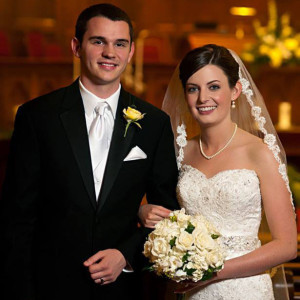 Katherine Lee Fisher, of Joplin, Mo., and Samuel Max Swisher, of Warrensburg, Mo., were married Saturday, June 1 at First United Methodist Church of Joplin. Pastor Bruce Jacobs officiated.
The bride is the daughter of Mr. and Mrs. Judson Fisher, of Joplin.
The groom is the son of Mr. and Mrs. Jerald Swisher, of Warrensburg.
Given in marriage by her father, the bride was attended by Amanda Crooks as maid of honor, as well as Nikki Key, Kelly Marshall and Brenna Seger as bridesmaids.
Groomsmen included Bob Nelson as best man, Nathan Fisher, Alex Karscig and Justin Robinson. Phillip Huff, Jordan McCrady, Travis Niemeier and Chris Walker served as ushers.
After honeymooning in the Dominican Republic, the couple will reside in St. Louis, Mo.