Bob Woodward visits Boys State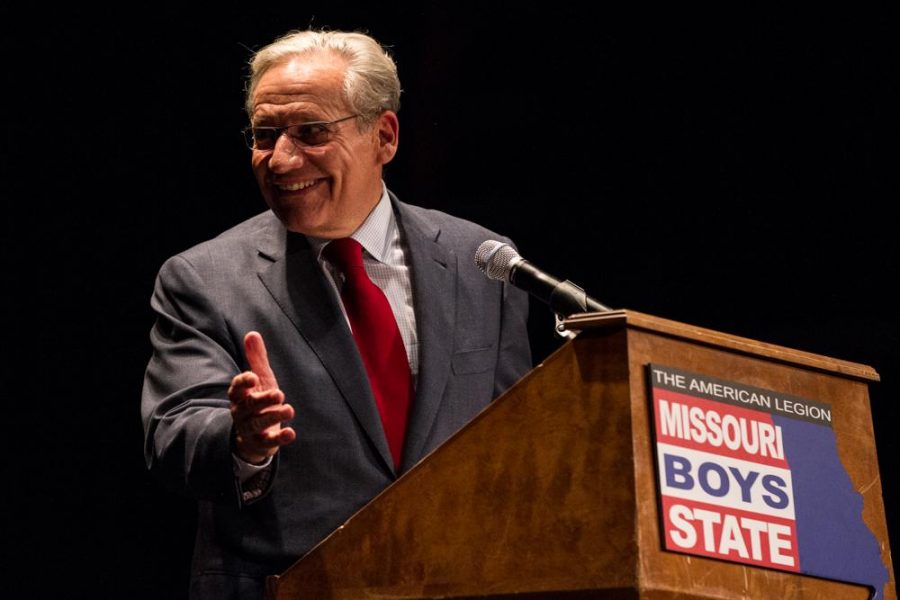 By ANDY LYONS (WARRENSBURG, Mo., digitalBURG) – Although the University of Central Missouri students are home for the summer, Hendricks Hall was alive Tuesday night with more than 1,000 clapping, chanting and cheering boys.
Journalist and author Bob Woodward, the Washington Post reporter who broke the Watergate scandal with a colleague, was the Missouri Boys State keynote speaker Tuesday. He was honored as the 25th annual George W. Lehr Memorial Speaker's Chair for the 74th session of Missouri Boys State. He delivered an address filled with accounts of his interactions with historical figures, humor and lessons he has learned throughout his career.
The night began with the boys filing in according to their "city," which consist of groups of about 60 boys. They chanted and sang along to music played in the performance hall. A brief news broadcast, anchored by three of the young men, was projected onto a screen and briefly detailed what's happening at Boys State and included the weather.
Woodward's speech touched on many details of his work, which has included publishing more than 10 nonfiction books that have covered topics such as Richard Nixon, George W. Bush, and Barack Obama. He kicked the speech off by talking about a "taxing" dinner with Al Gore. He followed it with a joke about sending George W. Bush a 21-page memo.
"My colleagues said that through his time in Andover and at Yale, he never read 21 pages of anything," Woodward joked.
To end his address, Woodward talked about interviews he was doing for his book, "Shadow," which covers the 25 years after the Watergate Scandal. After many interviews, Woodward said former President Gerald Ford answered a question he had asked numerous times, "why did you pardon Nixon?"
"'You've already asked me that,'" Woodward said recalling Ford's response. "The reason is because I needed my own presidency, we needed to move on.' Ford was doing something that the country needed, not a specific interest group."
After his speech, Woodward took more than 15 questions from the boys in attendance, ranging from journalism tips to focusing on the Watergate scandal. He remained candid, usually using a story about his experiences to answer the questions.
Despite being 17 years old, the boys in attendance seemed focused and intent on gleaning as much information from Woodward as possible. UCM President Chuck Ambrose noticed the focus the young men gave the journalism icon.
"It was really amazing to see the level of engagement and attentiveness that the members of Boys State focused on Bob Woodward," he said. "I believe that they really appreciated his place in history and also his first-hand access that he has had with every American president since Nixon."
Ambrose also shared his thoughts on having at UCM one of the people who helped shape our nation.
"On a personal level, it was one of those moments in a lifetime that you can sit and have a conversation with Bob Woodward about American politics and presidents," he said. "He was very genuine in his interest about the views of each of us around the table as if he was collecting observations or perceptions that would either validate or discount what he is seeing, hearing and writing about. Missouri Boys State brings a who's who in government and politics to Warrensburg and I believe Bob Woodward is at the top of that list."
For more information visit the Missouri Boys State home page at http://www.moboysstate.org/index.asp.
Andy Lyons is the incoming managing editor of The Muleskinner. Follow him on Twitter at twitter.com/theLYON85.