Dorothy Lee Marr, 93, of Warrensburg, died Friday, June 7 at the Country Club Care Center, surrounded by her family.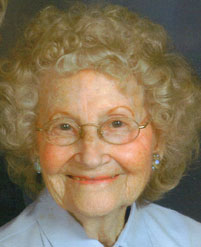 A funeral will be held at 3 p.m., Wednesday, June 12 at the First Presbyterian Church in Warrensburg, with the Rev. Heather Jespen officiating. Visitation will begin at 2 p.m. prior to service at the church. Burial will follow at the Warrensburg Memorial Gardens Cemetery. Pallbearers will be Doug Ray, Tony Millstead, Burke Slocum, Lane Slocum, Dan Marr, Doug Marr and Mike Foster.
Dorothy was born July, 9, 1919, on a farm in the Columbus neighborhood of Johnson County, the youngest of three daughters born to Otha and Mary (Wilson) Middleton.
She was united in marriage to M. Galen Marr on April 12, 1940, in Higginsville. They celebrated 70 years together in 2010 and danced until midnight at the Elks Lodge.
Dorothy was a 1937 graduate of Training High School.
She was a lifelong resident of the Warrensburg community and a member of the First Presbyterian Church, where for many years she was active in the ladies night circle. She was a homemaker for most of her life and worked in the county collector's office for more than 25 years, retiring in 1983. She was a past chairman of the Warrensburg Bowling Association and was inducted into the Warrensburg Women's Bowling Association Hall of Fame for meritorious service to the game of bowling. Dottie was also a past president and charter member of the Elks Ladies Association.
She was beside her husband, Galen, in many Elks activities at both the local and national level, including serving as a co-chair of the Registration Committee of the Elks National Hoop Shoot for 16 years.
Dorothy was a very devoted and loving wife, mother, grandmother, great-grandmother and great-great-grandmother who nurtured her family, teaching life lessons to her children even to her last days, and will be missed very much. She enjoyed hobbies including golf, bowling, fishing with family and friends and especially dancing with Galen. She always looked forward to the families annual Labor Day weekend gathering at the lake home for celebration, fun and relaxation.
Dorothy is survived by her three daughters, Loretta Millstead, of Warrensburg; Sandra Colster and husband, Albert, of Holden; and Cheryl 'Susie' Slocum, of Circleville, Kan.; and one son, Gary and wife, Beverly, of Kansas City; 11 grandchildren, Annette Ray and husband, Doug, of Sedalia; Tony Millstead and wife, Revay, of Olathe, Kan.; Dan Marr and wife, Melissa; Doug Marr and wife, Nicki; Tiffany Foster and husband, Mike, all of Kansas City; Barb Slocum, of Circleville; 19 great-grandchildren, Tom Ray and wife, Jyl, of Sedalia; Tracy Robertson and husband, Mathew, of Kansas City; Simberle Hamilton and husband, Cale, of Canton, Ga.; Cayman Millstead, of Warrensburg; Jordan Ramey and husband, Ryan, of Hiawatha, Kan.; Burke and Lane Slocum, of Circleville; Kate and Owen Wohler and Evan Marr, of Liberty, Mo.; Julia and Isabella Marr, Christopher, Chloe and Avery Foster, all of Kansas City; and five great-great-grandchildren, Carter, Harrison, and Adelyn Ray, of Sedalia; Jake Hamilton, of Canton, Ga.; and Matthias Ramey, of Hiawatha; two brothers-in-law, John 'Jack' Marr and wife, Willa, of Mill Creek, Wash.; Arthur Marr, of Warrensburg; two sisters-in-law, Golda Gauchat, of Odessa; Shirley Jones and husband, Kenny, of Warrensburg; three sisters-in-law, JoAnna Marr, Joan Marr and Betty Marr, all of Warrensburg, and several nieces and nephews.
She was preceded in death by her parents; husband, Galen Marr; two sisters, Mala Bryant and husband, Marion; Ether Goring and husband, Orville; four brothers-in-law, Rolla, Frank, Allen and Luther Marr; one sister-in-law, Eileen Marr; one brother-in-law, Emile 'Junior' Gauchat; two sons-in-law, Larry 'Butch' Slocum and Bruce Millstead; and one grandson, Kenny Slocum.
Memorial contributions are suggested to either the First Presbyterian Church or Union Cemetery at Jacoby Chapel and may be left in care of the Sweeney-Phillips and Holdren Funeral Home.
Story continues below advertisement