Greek Week: philanthropic fun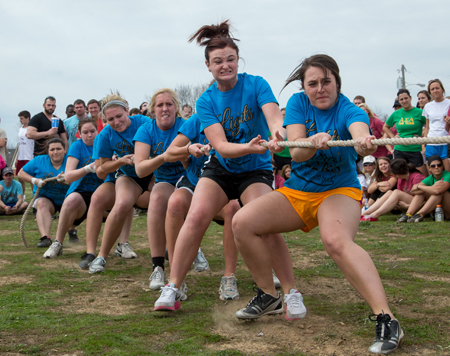 Story by Nicole Cooke, Copy Editor—
The students and faculty on the UCM campus were probably wondering why they could hear yelling and cheering echoing across campus from the football field last Monday night.
Or maybe why zombies joined them for dinner in Todd last Tuesday.
Maybe they wondered why there was no parking in front of the library early Monday evening.
What they may or may not have figured out was that April 1-8 was Greek Week at UCM.
While people on campus noticed the colorful Greek Week shirts and the constant chanting, they probably don't know that preparations started long before April 1.
Most chapters started preparing for Greek Week in late January once the theme, "Greeks on the red carpet," was announced. For some chapters, they started planning even earlier.
"I started thinking about Greek Week, honestly, in December before I even knew what the theme was and if I was even going to be our goddess," said Kenzie Porter, goddess for Alpha Omicron Pi. "Right after the theme was announced is when I started prepping. My main focuses were definitely the step show and variety show. All of the events are important, but those two are my favorite."
There are 16 events that occur during Greek Week, which can make the life of a god or goddess pretty hectic for most of the spring semester.
"Since I have participated before, I kind of know what the week entails, but I don't think I ever realized how much work it really requires of the god or goddess," Porter said.
Of the 16 events, the variety show and the step show take up the most time with weekly rehearsals. As Greek Week gets closer, rehearsals are daily.
"In the beginning, we practiced twice a week and when we got closer to April we practiced every day," said Stephanie Andert, goddess for Sigma Kappa. "All I did was eat, sleep and breathe Greek Week. I'd be practicing four hours straight every day and these people drive me insane, but I love them."
Gods and goddesses are typically expected to participate in as many Greek Week activities as possible. Andert was in every event except the obstacle course, capture the flag and the eating competition. Porter was also in every event except one.
"I just felt as Greek goddess, how could I expect people to participate in events I was not doing myself," Porter said.
Madison Llewellyn, goddess for Alpha Sigma Alpha, took a different approach to participation.
"I participated in variety show, step show and capture the flag," she said. "I tried to keep myself out of events that I didn't need to be in so more of our women could participate."
When it came to managing their brothers or sisters, as well as the members of their chapter's partner, it got a bit stressful. Some goddesses, like Llewellyn and Porter, had a delegate or committee to help them handle everything that needed to be done.
"Managing stress isn't my strong suit. I would honestly say that I have not been managing stress at all," Llewellyn said. "I have just been going constantly. I have little time for anything else. In the final weeks of prep, I started delegating more things to my chapter, which helped with the stress of the upcoming week."
Now that Greek Week has come to an end, the gods and goddesses have a better idea of the time and effort that is required. Each one had their own tips for how to survive Greek Week, all while enjoying it.
1. Delegate tasks
"I wish I would have known to rely on my sisters a bit more, instead of taking over the majority of the projects myself," said Maggie Quinn, goddess for Delta Zeta. "Delegating would have helped save some time and stress."
2. Be flexible
"We had a lot of confusion with our times for step show, so we ended up adding a stroll on, and then finding out we would be over time, and having to take it out," Llewellyn said.
3. Start early
"No one wants to be holding eight-hour practices the night before an event because you didn't write a script on time," Quinn said.
"Definitely start early and stay organized," Porter said. "You can never start too early on step or variety."
4. Relax
"There comes a point when you realize that everything is not in your control," Quinn said. "You had to let go a little bit. It wouldn't be Greek Week without a couple costume malfunctions, last minute Wal-Mart runs, forgotten details and a few panic attacks."
5. Utilize Facebook
"Definitely use Facebook," Andert said. "It is really easy communicating with everyone through Facebook, and we figured out times and days that would work with everyone."
6. Be prepared for anything
"For the record, not all chariots fit outside the doors of Panhellenic," Quinn said.
7. Have fun
"After the step show, we all had on our zombie make-up and ripped shirts and went to eat at Todd," Porter said.
Quinn's advice should be valuable to all future gods and goddesses, as she won Best Greek Goddess during Monday's closing ceremonies.
"No one tells you just how much work you are in for when you are chosen as Greek goddess," Quinn said. "The behind-the-scenes work is incredible. Fortunately for gods and goddesses, we got the credit last week. However, there are so many people that work just as hard in preparation that never receive a public thank you."
Now that Greek Week is over, campus is much quieter. The gods and goddesses have gone back to their normal routines, and sleep and homework are now priorities again after a week filled with events. UCM students and faculty can now walk around campus without hearing chants.
To see all the winners of Greek Week and photos from the week, visit Facebook.com/UCMGreekLife.