Jens return to Super Bowl Lanes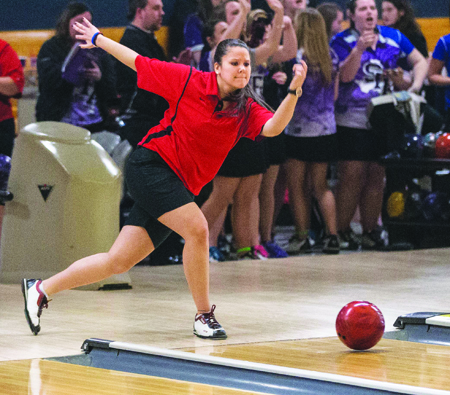 Story by Jason Strickland, Sports Editor—
 The Jennies bowling team returns to the lanes where it finished runner-up to Nebraska in the 2009 NCAA Bowling Championships.
Super Bowl Lanes in Canton, Mich., is the site of the NCAA Bowling Championships, which begins today with the qualifying rounds.
They are round-robin style, so every team plays each other once, and the results determine tomorrow's seeding for the two four-team brackets.
"There is a fine line of playing well and trying to win all those," said head coach Ron Holmes.
"But also trying to make sure that you know what your matchups are and what things to do well, and the different parts that you will be able to be successful with and figure those out."
Holmes said winning is about 60 percent and learning is 40 percent for Thursday.
"Wins you certainly like, but there's been multiple experiences where the eight-seed knocks off the No. 1 seed, so all these teams can beat each other," he said.
The Jens are the No. 1 seed in the championships going into today, but are No. 3 in the coaches poll.
Defending national champion Maryland Eastern Shore is first, while Nebraska is second.
I don't know if there is a clear answer to that," Holmes said when asked who has the biggest target on their backs. "Probably us at this point because we are the No. 1 seed going into the event.
"I would think one of those two (Maryland Eastern Shore and Nebraska) would have it performance-wise over us, and if that's the case, great. Maybe people will overlook us, and I'm OK with that."
The winners of tomorrow's two double elimination brackets will play in the championship Saturday at 7 p.m. on ESPNU.
If extra matches are needed then those will be at 2:40 p.m. Today and tomorrow's action is available on NCAA.com at 10 a.m.
"They slow things down and really stretch things out once we get into bracket play, and if we are fortunate to get to the finals," Holmes said.
"The television production company essentially has us change how we play compared to the regular season and even during the first two days of the contest."
The Jens have three All-Americans this year. Freshman Mary Wells made the first team, senior Natalie Jimenez was a second-team selection and junior Kara Richard was an honorable mention selection.
Jimenez was also named the Division-II Player of the Year.