Vernon Talmadge Henson, 92, formerly of Warrensburg, has died; service is Aug. 27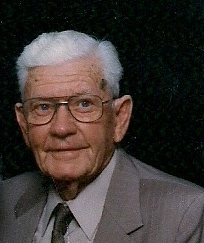 (WARRENSBURG, Mo.) – Vernon Talmadge Henson, 92, formerly of Warrensburg, died Thursday, Aug. 23, 2012, at the Lutheran Nursing Home in Concordia, after a long battle with Alzheimer's disease.
Vernon was born Aug. 15, 1920, in Wingate, Texas, the son of Emmitt T. and Della (Daniel) Henson, the oldest of five siblings.
On June 11, 1940, he married L. Bernice Thorn in Big Springs, Texas.
Vernon served with the 3rd Marine Division and bravely fought in the battle of Iwo Jima. After retiring from the service, Vernon moved his wife and two sons to Albuquerque, N.M., and began his 40 year career in the trucking business. He drove semi-trucks for APEX and Navajo Freight Liners. He was then promoted to Shop Foreman in charge of repairs and worked for several trucking companies before becoming Shop Manager for a chain of Freight Line truck shops.
Vernon retired near Abilene, Texas, at Lake Coleman where he and Bernice were able to visit with family and spend time fishing.  In 2006, Vernon's sons and family moved Vernon and Bernice to Warrensburg to be closer to family.
Vernon is survived by his wife Bernice; two sons: Ron Henson and wife Millie of Warrensburg; and Billy Henson and wife Shelia of Ozark, Mo.; one sister, Iva Oden and husband Tony of Lubbock, Texas; nine grandchildren, 13 great-grandchildren, and three great-great-grandchildren.
Graveside services will be held at 10 a.m. Monday, Aug. 27, 2012, at the Missouri State Veteran's Cemetery in Higginsville with Brother Charles Brant officiating.
Memorial contributions are suggested to the Alzheimer's Association and can be left in care of Sweeney-Phillips & Holdren Funeral Home in Warrensburg.