Soldiers receive support at departure ceremony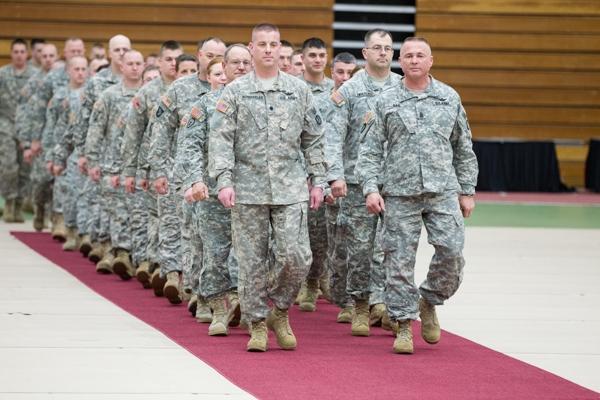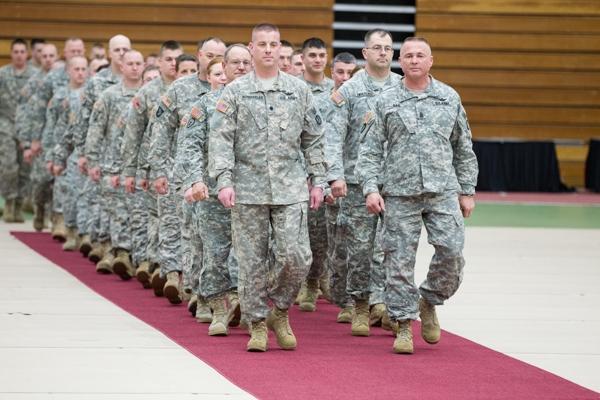 Story by ANDY LYONS, News Editor – The Multipurpose Building at UCM was full of teary faces, tight hugs and raucous cheers Sunday as more than 300 Missouri National Guard soldiers gathered for a departure ceremony that included their family, friends and members of the community. The citizen-soldiers of the 1-135th Attack Reconnaissance Battalion have been training to leave mid-Missouri and head to the dry and mountainous country of Afghanistan.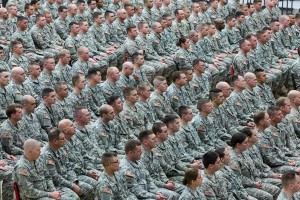 The aviation battalion, headquartered at Whiteman Air Force Base, will deploy as an attack and reconnaissance asset to Afghanistan. The unit is commanded by Lt. Col. James P. Schreffler and Command Sgt. Maj. David C. Gail.
Maj. Gen. Steve Danner, adjutant general of the Missouri National Guard, gave a rousing speech that reminded the soldiers to "keep an eye on the ball." He said he wants them to stay mission-focused and return safely, and asked the veteran members of the unit that have been deployed before to take the first-time soldiers under their wings. He also stressed keeping open communication with their families that will be left behind. Danner mentioned using social networking to stay in touch.
The unit completed its 30-day annual training, which included its pre-mobilization training, at Gowen Field, near Boise, Idaho. During the training, the unit conducted essential Army training with day and night aerial gunnery, high altitude flight training and theater specific individual required training.
Sgt. Ryan Chandler, a political science major at UCM, said that the soldiers have gone through multiple types of training, ranging from soldier training, which includes combat lifesaver training, to cultural training to prepare them for the customs of Afghanistan.
"I'd say that we're all ready and looking forward to doing our duty, but of course it's sad you leave your family behind," Chandler said.


As part of a long-standing tradition of the Missouri National Guard, an American flag is presented to the oldest deploying member of the unit and the Missouri state flag is presented to the youngest deploying soldier. Sgt. 1st Class Barry Keck, 56, has 22 years of military service and previously deployed to Iraq in support of Operation Iraqi Freedom. Danner presented him with the American flag. Pvt. Haley Cronk, 18, will be going on her first deployment. Command Sgt. Maj. Will Pierce, state command sergeant major, presented Cronk with the Missouri state flag.
Elaine Horn, mayor of Sedalia, and Don Butterfield, mayor of Warrensburg, both gave brief speeches offering encouragement and promising help to the families that the soldiers are leaving behind. Emcee Maj. John Martin read statements from Congresswoman Vicky Hartzler, U.S. Sens. Roy Blunt and Claire McCaskill, and Danner spoke for Gov. Jay Nixon, all who could not attend the ceremony.
The 1-135th Attack Reconnaissance Battalion has a long history as an Army Aviation Battalion within the Missouri National Guard. The battalion has trained with the UH-1 Huey, OH-58A/C Kiowa, AH-1F Cobra and the AH-64A Apache helicopters. It has evolved into an AH-64D Longbow Apache unit and has completed two successful annual training gunnery exercises and one high altitude mountainous environment training exercise.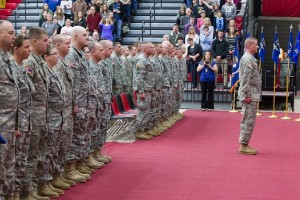 Chandler also mentioned that the faculty at UCM was very supportive and helpful when he had to go through the process of taking a military leave from classes.
"All of the faculty have been very good with helping me take care of what I need to in order to get ready," Chandler said.
Chuck Ambrose, president of UCM, was glad that the National Guard feels at home at UCM.
"It's great that the Missouri National Guard view the Multi as its own," Ambrose said. "This is just one small extension of the partnership between Gen. Danner, the National Guard and UCM."
In 2006, Alpha Company of the battalion deployed 48 soldiers as part of the 1-149th Attack Reconnaissance Battalion from the Texas National Guard in support of Operation Iraqi Freedom. Individually, Alpha Company soldiers were awarded five Distinguished Flying Crosses, three Bronze Stars, one Purple Heart, 13 Air Medals with Valor and numerous other awards.
The soldiers will continue their mobilization training in Fort Hood, Texas, before making the journey to Afghanistan.