Multi to host deployment ceremony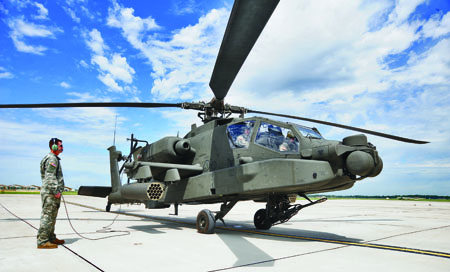 Story by ANDY LYONS, news editor— The Missouri National Guard will host a departure ceremony for the 1-135th Attack Reconnaissance Battalion at 1 p.m. Sunday, March 24, at the University of Central Missouri's Multipurpose Building.
The aviation battalion, headquartered at Whiteman Air Force Base with a company in Clinton, Mo., will deploy over 300 soldiers as an attack and reconnaissance asset to Afghanistan.
The unit is commanded by Lt. Col. James P. Schreffler and Sgt. Maj. David C. Gail.
The unit completed its 30-day annual training, which encompassed its pre-mobilization training at Gowen Field, near Boise, Idaho, where they conducted essential Army training with day and night aerial gunnery, high altitude flight training and theater specific individual required training.
After its departure ceremony, the soldiers will continue their mobilization training in Fort Hood, Texas, before making the journey to Afghanistan.
According to the Missouri National Guard's website, the 1-135th Attack Reconnaissance Battalion has a lengthy history as an army aviation battalion within the Missouri National Guard. The battalion has trained with the UH-1 Huey, OH-58A/C Kiowa, AH-1F Cobra and the AH-64A Apache helicopters.
It evolved into an AH-64D Longbow Apache unit in October 2011 and has completed two successful annual training gunnery exercises and one high altitude mountainous environment training exercise.
The radar-equipped AH-64D Apache Longbow features numerous enhanced capabilities, according to manufacturer Boeing's website, which includes longer-range weapons accuracy and all-weather/night fighting. It also includes detection of objects without being detected, and classification and threat-prioritization of up to 128 targets in less than a minute.
The Longbow also has integrated sensors, networking and digital communications for situational awareness, management of the combat arena in real time, and digital transmission of images and target locations to joint operations battlefield commanders.