Basketball teams gearing up for final regular season games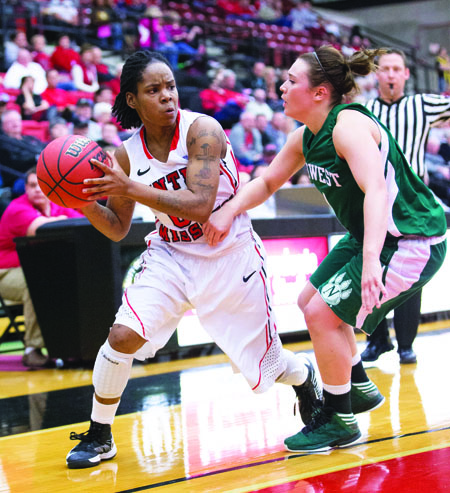 Story by JASON STRICKLAND, Sports Editor—
With three games remaining, it's the final stretch of the regular season for the Mules (17-6, 11-4) and Jennies (21-2, 13-2) basketball teams.
Both teams play at Southwest Baptist Saturday, host Truman Wednesday and will be at Washburn March 2.
Jennies
The No. 7 Jennies are having the best season since they finished 29-3 in 1990.
"Everybody loves one another," junior Keuna Flax said. "We are together for everything we do off the court, on the floor, and we all know our potential and we all know what we can do as a team."
The Jens are starting to talk to each other more on the floor instead of just off it.
"I think they are now starting to get more vocal on the floor," said head coach Dave Slifer. "Last week we started talking about keeping people accountable. It's not just coaches trying to keep players accountable."
Juniors BreAnna Lewis and Keuna Flax are two players who have taken a role of communicating more on the floor.
"As far as me and BreAnna, we are two leaders on the team," Flax said. "We have to make that step of talking and being leaders."
Slifer said he is seeing others communicate more as well.
"I think there are kids that are really starting to step up and realize, you know what, 'I may not be the leading scorer, but I can make sure my team sprints back on defense and make sure they complete plays,'" he said.
Lewis got the MIAA Player of the Week for the second time this season after connecting on 11 3-pointers last week against Lindenwood and Lincoln.
"You work hard at doing something and you get recognized for it; it feels good," Lewis said.
Lewis and Flax said they feed off each other's energy.
"She knows when to uplift me," Lewis said. "If I'm having a bad day, she'll just tell me to block it out or tell me to focus on the game and don't let worrying about other things stop us from winning the game."
As for the game at Southwest Baptist (10-14, 5-11), Slifer said rebounding will be key, which is where senior Nicole Caddell comes in.
"The thing with Nicole, she's just so strong," he said. "It's just hard to keep her from getting to the rim, and it's hard for people to get to the rim on her because she's not afraid to take a charge and she's not afraid to push you out and keep you out of the paint."
Caddell is the leading rebounder in the MIAA, and will go up against the second leading rebounder in junior Jacqui Zelenka. Caddell is averaging 10.2 boards per game, while Zelenka averages 10.
As a team SBU has rebounded more effectively than Central. SBU is third in the MIAA in rebounding margin, while Central is ninth.
The Jens host Truman (17-5, 10-4) Wednesday for senior night. The Bulldogs held Central to 10 points fewer than its season average.
"I tell you what, they whipped us," Slifer said. "They played extremely well. It was the best game environment I've ever seen at the Truman arena where they play. I felt like we got outplayed. We started off poorly and we never could get over the hump."
The SBU game is at 5:30 p.m. Saturday, and the Truman game is at 5:30 p.m. Wednesday.


Mules
The Mules are on a two-game winning streak after breaking a three-game losing streak. Senior Dominique Long said head coach Kim Anderson sent a message during the losing trend.
"He actually took our jerseys away and things like that," Long said. "It kind of brought us down to earth so that we would get back to doing what we do. We did a lot of defensive drills and diving on the floor for balls and things like that, so it was just intense practice."
The Mules enjoyed having Wednesday off from playing a game.
"We had some intense practices, so it was nice to get a day to get our bodies back in gear," senior Widgett Washington said.
Anderson is cutting practice time down by about 30-60 minutes.
"Basically, we are trying to stay fresh and have good, sharp, intense practices and not have to go real long."
Anderson said the losing streak helped the team.
"You never like to have a three game losing streak get you in focus, but I do think it woke us up a little bit," he said.
The Mules will play against SBU at 7:30 p.m. Saturday in Bolivar, Mo. Long and Washington said they expect a loud crowd.
"At SBU, they always are real rowdy," Long said. "Their crowd is real involved, so we've got to go down there and stay poised and come out and try to get a win there."
Wednesday against Truman is senior night, so Washington said the team needs to win that game.
"We've got to go out with a win," he said.