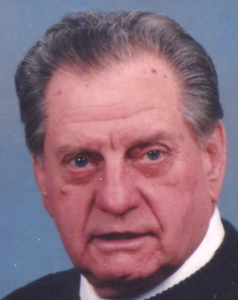 Delbert Lee Bearce, 88, of Knob Noster, died Tuesday, Feb. 12 at St. Luke's Hospital in Kansas City.
Funeral services will take place at 2 p.m. Saturday, February 16, 2013, at Sweeney-Phillips & Holdren Funeral Home in Warrensburg with Brother Charles Brant officiating.
Interment will follow at Knob Noster Cemetery.
The family will receive friends from 1 p.m. until service time Saturday at the funeral home.
He was born Feb. 28, 1924, in Blue Mound, KS, the son of William Delbert and Cora (Davis) Bearce.
On Jan. 2, 1945, he was united in marriage to Alyce Judd in Kansas City, KS.
Del was a graduate of Farmers High School in Johnson County. He then joined and served in the U.S. Army Corp from 1943 to 1946 during WWII. After his military service, Del began working as a heavy equipment operator until his retirement. Most of his life, Del called Knob Noster home. He served as mayor, councilman, volunteer fireman, and auxiliary policeman under Charles Norman. Del was a member of Local 101 Operating Engineers and was a lifelong member of the Ivanhoe Masonic Lodge of Kansas City. He enjoyed hunting and fishing, and could frequently be seen at many area auctions.
Del is survived by his wife Alyce, daughters Dr. Judy Kuhlman and husband Dennis, of Rayville; Terre Kirk and husband Rodger; and Kaye Merkle and husband John, of Blue Springs; one son, Lee Bearce and wife Cheryl, of North Kansas City; six grandchildren and nine great-grandchildren.
He was preceded in death by his parents, one brother, Edmond Bearce, and one sister, Gay Richmond.
Memorial contributions are suggested to the American Diabetes Association and can be left in care of the funeral home.
Story continues below advertisement