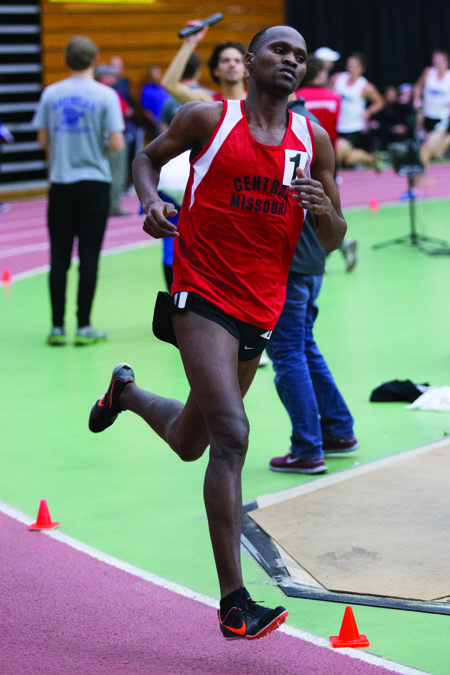 Story by ALEX AGUEROS, for The Muleskinner—
Central track & field will host the annual UCM Classic Friday, a meet the Mules and Jennies look to step up and prepare for the final stretch toward the MIAA Championships next week.
The teams are coming off a meet at Iowa State, where Central sent select athletes to match up against strong D-I and D-II competition.
"Iowa State was a big meet," co-head coach Kirk Pedersen said. "There were a lot of better athletes and that made for better competition. It was a tough environment and I thought we competed well."
Five UCM athletes earned provisional marks in Iowa, including senior distance runner Laban Sialo, who won the seeded 5000m with a time of 14:19.93.
Sialo won the same event 17 seconds faster last year. He is still looking to be fully recovered from an injury that kept him out of the cross country season.
"This year I wasn't able to get mileage from cross country season, and that usually helps," Sialo said. "I should be back for conference."
As for preparations for this week's UCM Classic, Sialo's training will be less intense than usual.
"I'm going to try and relax a little this week," Sialo said. "I'm going to cut back on mileage so I don't get tired. I don't want my training to affect me negatively in the meet."
For co-head coach Kip Janvrin, the UCM Classic will help solidify certain events for Central. Along with analyzing the team's performance and scores, he will pay attention to other conference schools. Specifically, the athletes they will choose to run in each event.
"We're about 80 percent sure on the teams for each event," Janvrin said. "This weekend will dictate the other 20 percent."
Janvrin is happy with how far the team has come.
"I was pleased with how we competed in Iowa," Janvrin said. "For the athletes that went, they got to see great competition. For the ones that didn't, they look to sharpen up this week for the next meet."
The UCM Classic begins at 2 p.m., Friday with field events in the Multipurpose Building. Track events are scheduled to start at 5:15 p.m.
Story continues below advertisement