Gerald Wagoner
Gerald Wagoner, 76, of Warrensburg, died Tuesday, Jan. 22 at KU Medical Center.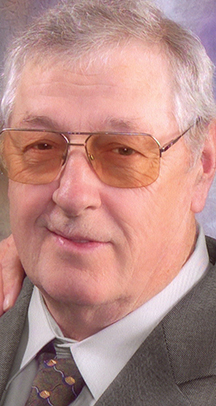 A funeral will be held at 2 p.m. Friday, Jan. 25 at Sweeney-Phillips & Holdren Funeral Home in Warrensburg with the Rev. Hubert Neth officiating. Pallbearers will be Bill Wagoner, Kellyn Wagoner, John Brockhaus, Justin Tinney, Keith Ratliff, Brian Groff and Brandon Groff. Honorary pallbearers will be Larry Wagoner, Hugh Smith, Mark Wagoner, Don Pryor, Dwight Stephens, David Andrew, Mike Andrew, Dan Groff and Chester Pennington.
Interment will follow at Centerview Cemetery.
The family will receive friends from 1 p.m. until service time Friday at the funeral home.
He was born Feb. 19, 1936, in Centerview, the son of Orville Gerald and Clara Blanche (Irvine) Wagoner.
He was united in marriage on Dec. 22, 1957, to Jean Bell in Warrensburg.
Gerald was an over-the-road truck driver for many years. He was a member of the Warrensburg Elks Lodge No. 673, the Shriners, and formerly served on the Western Missouri Medical Center Hospital Board.
He is survived by his wife, Jean; one son, William Allen Wagoner and wife, Lynne, of Independence, Mo.; one daughter, Leesa Brockhaus and husband, John, of Holden; one sister, Jane Groff and husband, Danton, of Raytown, Mo.; six grandchildren, Brandy Ratliff and husband, Keith, of Warrensburg; Kellyn Wagoner and wife, Kim, of Carrollton, Mo.; Lindsey Tinney and husband, Justin, of Mora, Mo.; Jenna Brockhaus of Holden; Danielle Carr and Aaron Carr, both of Independence; five great-grandchildren, Leighton Tinney, Jace Tinney, Aaron Ratliff, Kristen Wagoner and Hayden White.
Gerald was preceded in death by his parents and one brother, Marvin Wagoner.
Memorial contributions are suggested to Children's Mercy Hospital and can be left at the funeral home.