Performers Transport Audiences to New Worlds
  UCM Theatre kicked off its season with an evening of one-act performances at 7:30 p.m. Thursday on Sept. 9 in the Black Box Theater. Each act was 10 minutes long, and these shows ran until Sept. 11.
  "The Show Must Not Go On!," directed by Thomas Clark, was a delight. The convincing comedic banter between actors Alex Scharfenberg and Holden Childress made for an amusing and entertaining dynamic. When the show opened, the audience was thrown right into the story with the two men shouting obscenities at each other as the janitor, played by Katie Marshall, watched on, clearly agitated by the brash behavior these two men exhibited. At her breaking point, she snapped and offered a solution to their problem, which the men reluctantly accepted. This was a mistake. Marshall's quiet and reserved character flipped on its head and turned into a flamboyant thespian, quoting every Shakespearean piece to date. The ability to switch at the drop of a hat is admirable. All the actors in this show demonstrated a strong stage presence and made this captivating comedy one to remember.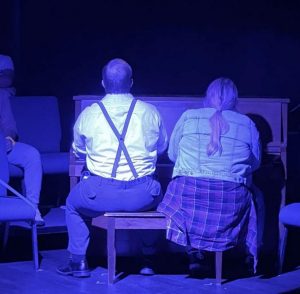 As the lights dimmed and a new scene was set, the tone had changed. The lights cued for "Bittersweet Lullaby," directed by Alec Bridges, and audience members saw a man, played by Finn Juliano, dressed in old clothes and sitting at a piano, frustrated. As he struggled, a younger, more modern-looking woman, played by Alyce Wilson, came in talking on the phone. The two carried on with their own separate monologues for quite some time, which is impressive. They never once faltered or stuttered while listening to the other's voice. Not only are these students incredible actors, but they are also gifted with marvelous voices. Reaching the climax of this show, the two sat by the piano and sang a lovely duet. The song alone was enough to give anyone goosebumps, but the raw emotion and talent these two possessed was what made this melancholy musical a masterpiece. The tech and costume department also deserve praise. The choice of attire for the two characters was impeccable as it displayed each character's time period perfectly. The use of spotlights and sounds during this show were also excellent and added to the overall emotional impact.
  After the last scene change, the audience was introduced to a narrator, played by Miranda Muenz, as she set the scene for "The Furniture Store," directed by Daniel Prillaman. This show was a rollercoaster of emotions as the store owner Kenneth, played by Zacharia Bowen, tried desperately to convince couple Toni and Sylvia, played by Rachel Curry and Sapphire Engel, to buy his furniture … that doesn't exist. Bowen commanded the stage with his bold and booming presence. Meanwhile, Curry and Engel's chemistry on stage was perfect as they painted a convincing, comedic and very confused couple. The escalating argument between Curry, Engel and Bowen made for a hilarious altercation that ended with a stunning and dark conclusion that left the audience shocked. As soon as Kyle, played by Philip Licata, entered the scene, his entertaining portrayal of a stoned character instantly lightened the mood once again. "The Furniture Store" was a show that certainly won't be forgotten easily, the cast made sure of that.