Football Freshman Tackle Fall '21 Season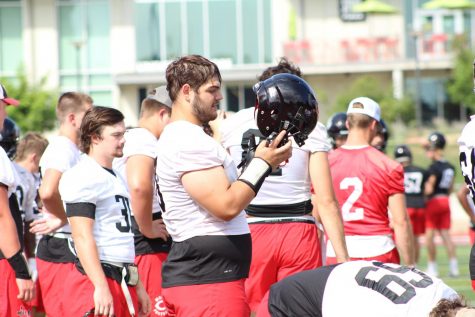 Transitioning from high school to college life can be a stressful experience. Many students pack up and move away from the cities that they've called home for years with the intentions of gaining new independence, creating new connections and exploring new passions. Student-athletes have the added tasks of adapting to the practice schedules, requirements, and expectations of their new team.
  "During high school, it was straight from school to football, then you would have a little bit of free time, depending on how much homework you had," freshman offensive lineman Luke Strassner said. "Here, I feel like I almost have more free time than in high school, but it depends on my homework load for the day."
   While some team members feel as though the college environment allots more free time than they have had in previous years, others have a completely different viewpoint on the demands of their new schedule. 
   "I have a lot less time than I did in high school," freshman offensive lineman William McCorkle said. "High school football was a lot easier and had a much slower pace. As soon as I got here, the pace was incredibly faster. You get a little less time, but you're doing more."
   The commitments team members have made to attend practices are extensive, but those commitments extend beyond official practices as well. 
   "You not only have so many meetings during the day and so much time required to be there, but off the field, you're pretty much expected to be doing something at all times as well," Strassner said. "I like it, to be honest; It's good to meet expectations like that, and I feel like I have a really good support system. It's definitely geared to the student first."
   While athletic performance is important, coaches prioritize academics and set aside time to ensure that their players are successful both on and off of the field. 
   "The coaches give us planners and we're required to fill them out," freshman defensive lineman Weston King said. "It really helps because it allows us to visualize what we have to get done that day. It allows us to go step-by-step and not get overwhelmed by everything we have to do."
   The support from coaches and fellow team members pushes the players to improve themselves both academically and athletically. 
   "I always have high expectations for myself. I like to do the best I can and succeed in everything I do, and I'm going to work hard until my goals are met," King said.
   While each player has individual goals and priorities, they are all unified on the field by one common goal. 
   "I don't know if my expectations are met yet," McCorkle said. "But we have a goal here, and that is to win a national championship and we're not going to stop until we do."