Finding Friends, No Matter How Low They Might Be
September 7, 2021
  "They could walk into any camp down there and they don't got to worry about nobody doing anything to them," Terry Friends, a kind, sleepy-eyed Black man, said as he sat on his bed across the small room, recounting his experiences with Rachelle and the others. "If you didn't give 'em permission to come into your camp, they still come in."
  Before moving into assisted living, Terry used to live on the street. That's when he first met Rachelle. Back when he was living in a tent with his then-girlfriend.
  "I asked her one day, 'why do you do it?'" he said when talking about his early interactions with Rachelle in the homeless camps back in the woods.
  It's clear from his demeanor that he was not used to interacting with people quite like Rachelle back then.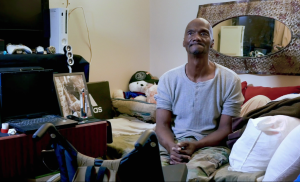 "She told me [it was] because she cared," Terry said. 
  He shook his head and said, "When you got family members that don't care … that's kinda bad, you know? But [Rachelle and her friends] cared."
  Terry crosses his legs. His feet are uncovered — what's left of them. He lost a good part of both feet to frostbite years ago, a result of sleeping in a tent on the ground in winter.
  "I was in the hospital," he said, "And they told me I wasn't going to live but three weeks … but I'm still here. I'd lost hope in God, man … I lost all hope and faith until I met them."
  Terry said, "[She] gave me a reason to live again."
  Rachelle has built a level of trust within the homeless community that is hard to comprehend. Her countless hours of devotion and sacrifice have given her a place of almost eminence among the people she tries to help. A lot of it comes from how she views them.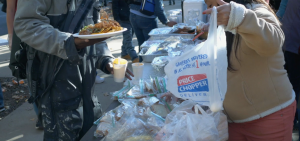 One of the constant services Rachelle and her friends provide is a buffet style lunch in the park every Sunday where they serve hot food and pass out needed supplies.
  "When you see the same people every week," Rachelle said, "and you're greeted by the same people and you're greeted with a hug, it might be the only hug or the only interaction they get with a person all week long. It's almost like there's this invisible fence around the park that once they enter it, they can be themselves."
  Rachelle gets to see a side of the people she helps that few others take the time to notice. She provides a safe space — a place where they aren't forced to beg for money or huddle in a corner to keep warm. It's an opportunity for these sometimes forgotten people to leave behind the basic struggle that is daily survival and interact with other human beings in a healthy way.
  "There's bonds being built," Rachelle said.
  And those bonds were proven in a heartbreaking way.