UCM Retrenchment Recommendations Submitted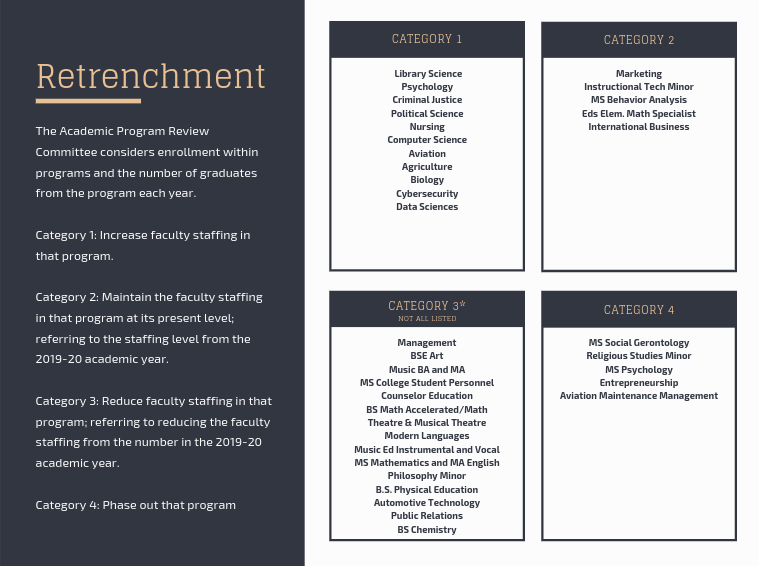 The University of Central Missouri's Academic Program Review Committee started retrenchment procedures on Nov. 6 and have made recommendations and received appeals from programs wishing to reverse those recommendations. The APRC's retrenchment recommendations were emailed to UCM faculty on Jan. 22. 
  Programs were grouped into four categories, ranging from Category 1, which recommends increased staffing, to Category 4, which recommends phasing out the program. 
  Phillip Bridgmon, Provost and Vice President for Academic Affairs, said the Academic Review Board is currently meeting with programs that submitted appeals to the APRC recommendations. 
  The ARB final report is due Feb. 16 and will be sent to Bridgmon, who will then make a final recommendation, no later than Mar. 1, to UCM President Roger Best, who will have the final say.
  In a document sent to faculty by Bridgmon, it was recommended that some programs receive continued examination for possible reductions in staffing, such as engineering technology, art and design and communications and digital media.  
  Bridgmon said these programs are Category 3, but with the caveat that they require ongoing review. How these programs will be categorized in the recommendations to Best is yet to be determined.
  One of Bridgmon's biggest takeaways is that retrenchment is a difficult process.
  "Whenever you're engaged in a process like a retrenchment review, it's a very unpleasant time," Bridgmon said. 
  Senior Solomon Bailey, vice president of the Student Government Association, is one of the three student representatives on the ARB. Bailey detailed the role of the student representatives.
  "All student representatives are non-voting members, so we serve in a bystander capacity. We're allowed to give input, but we just aren't allowed to vote when it comes to making our official recommendations," Bailey said. 
  While a non-voting member, Bailey said he and the other student representatives do give their input with the ARB. As a board member, Bailey realizes the importance of retrenchment.
  "It's definitely been a stressful process, that the gravity of which has not gone unnoticed, as we are the board that is put in charge of potentially deciding some of the fates of certain programs," Bailey said.
  Another one of the Category 4 programs was the entrepreneurship and social enterprise bachelor of science in business administration program. Program director Dan Jensen said his program decided not to appeal its Category 4 status.
  "We knew that we needed to put the program into abeyance because we did not have sufficient enrollment," Jensen said. 
  Jensen said the program had already made adjustments based on its standing, specifically moving all the unique coursework to the management program. 
  "I've actually been thinking about this for the last three years," Jensen said. 
  Some program directors accepted the decision, while others saw the need to speak against Category 4 recommendations.
  Another program that's listed as Category 4 was the social gerontology master's program. Program coordinator Mary Kelly said the program appealed the ruling and listed some of the benefits that the program offers. 
  "I think it's a program that has a lot of potential for growth, and it's also a program that doesn't cost the university a whole lot of money because we are an interdisciplinary program and a lot of the courses, particularly the elective courses, are ones that are taught in other programs and they'll be taught whether or not we have an MS in social gerontology," Kelly said.
  Kelly said that about five students a year graduate from the program, but seven or eight students will be graduating this year. She said the program has made a lot of significant changes in recent years, the biggest being a new professional research project option introduced in 2020, which she said has made a positive difference and has enabled full-time employees to get their MS.
  Kelly is also a member of the ARB and is one of a few members who is involved with a program in a similar situation to the MS social gerontology program. The board decided that members are able to speak about their own program.
  "If we're the coordinators of the program, it would be putting us at a disadvantage if we couldn't say anything," Kelly said.
About the Writer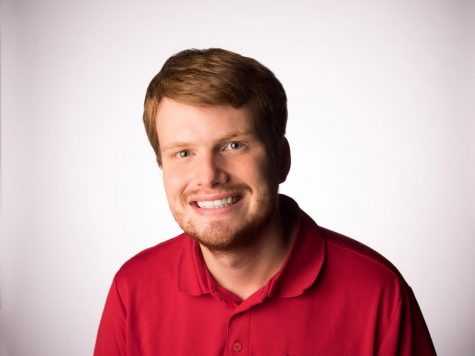 Matthew Goldsmith, News Editor
Matthew Goldsmith is the news editor of The Muleskinner and a graduate student at UCM. He recently graduated from Wichita State University with a degree...