Eugene Leonard 'Gene' Fiedler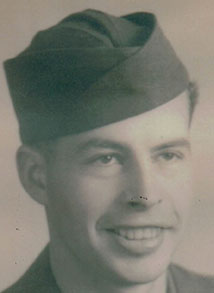 Eugene Leonard "Gene" Fiedler, 93, of Warrensburg, Missouri, died Sunday, Aug. 27, at his home.
Graveside services are scheduled for 11:30 a.m. Friday, Sept. 1, at Sunset Hill Cemetery. Honorary pallbearers will be Brad Funk, Clyde Compton, Jay Lyle, Dennis Williamson, Marvin Neal and Kurt Love. The family will receive friends from 10 to 11 a.m. Friday at Sweeney-Phillips & Holdren Funeral Home.
His family moved to Missouri when he was a young boy. They lived in the Sedalia/Green Ridge, Missouri, area. He graduated from Green Ridge High School and worked on the farm with his family before joining the Air Force. He also played basketball and was on the track team in school.
He was a staff sergeant in the United States Air Force and was stationed on the island of Ioshima from where they made flights into Japan. He joined his flight crew in 1944 as a radio operator. They stayed in touch through the years and had reunions in California and Ohio as well as Kansas City, Missouri, and Whiteman AFB. These friendships lasted for 73 years.
Gene worked 33 years for Midwest Auto Stores and managed the store in Warrensburg, Missouri. He then worked for Cassingham's Hardware and eventually went to Western Missouri Medical Center where he worked as an engineer. He was a member of the American Legion for 60 years. He also helped in the building of the Legion building in Warrensburg. He was a member of the VFW.
Gene liked to go fishing and hunting and also shared some of these skills with his daughter and grandchildren. He also enjoyed working on small engines, which he will be most remembered for. He had many nieces and nephews he cared for and kept in touch with.
He is survived by a daughter, Janice Evans and husband, Bill, of Warrensburg; four grandchildren, Marijayne Manley and husband, Royal, of Leeton, Missouri; Anthony Eugene "Tony" Runk and wife, Jackie, of Shawnee, Kansas; Halie Marie Van Allen and husband, Doug, of Lawrence, Kansas; and Chadwick Arthur "Chad" Runk and wife, Alexandra, of Warrensburg; and eight grandchildren, Bailee, Levi, Reed, Anthony, Aidan, Azaylea, Sophia and Chadwick.
He was preceded in death by his parents, his wife, four sisters and five brothers.
Memorial contributions are suggested to the American Diabetes Association or Crossroads Hospice and can be left in care of the funeral home.