Plenty to be thankful for
Story by Kristin Gallagher, Business Manager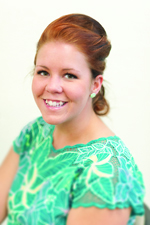 Some people say that Thanksgiving is overrated; that every day should be a day to give thanks.
I cannot say I don't agree, but not fully. The thing is, we are all caught up in these busy lives with things to do, places to be, jobs to fulfill, homework to complete, bills to pay, and so on and so forth.
Although these tasks are part of a normal adult routine, they are overwhelming to us as college students.
There is a high level of stress that comes along with being a student and an adult, especially when online studies suggest that nearly 80 percent of students also work 20-30 hours a week at a job.
Our time is so limited that when we get a little window during our day to relax, we feel guilty that we are not filling it with some sort of work.
So maybe it is not the greatest excuse, but I think it is acceptable to say that with our devotion to making ends meet right now to ensure the best life after college, we forget to acknowledge the blessings we are given everyday.
Sometimes looking toward the future blinds us from the present, and we get just a little self-centered and a bit too wrapped up in our own agendas.
Still, I don't think we should be condemned based on these actions. We are only human and it is our nature to be a little selfish.
My advice to all of you is to take this Thanksgiving day and reflect on everything you have been too busy to see before.
Take the time to really think about all of the things in your life that you have been given and be truly thankful.
Don't just acknowledge what you have accomplished, but also the other people who have helped you accomplish it.
Be thankful for the people who have believed in your ability to achieve your college dreams.
Be thankful for the people who have brought the joy into your busy life. Be thankful for the people who, like you, are trying to make ends meet and still take the time to check up on you.
Be thankful for family. Be thankful for friends. Be thankful for the drive and passion to make your own path in this world.
Hell, be thankful the semester is almost over.
Whatever it is that brings happiness to your overworked, overburdened and overly busy life, take the time to give thanks for it, because you may not remember to do it tomorrow.