A long road ahead for Jennies volleyball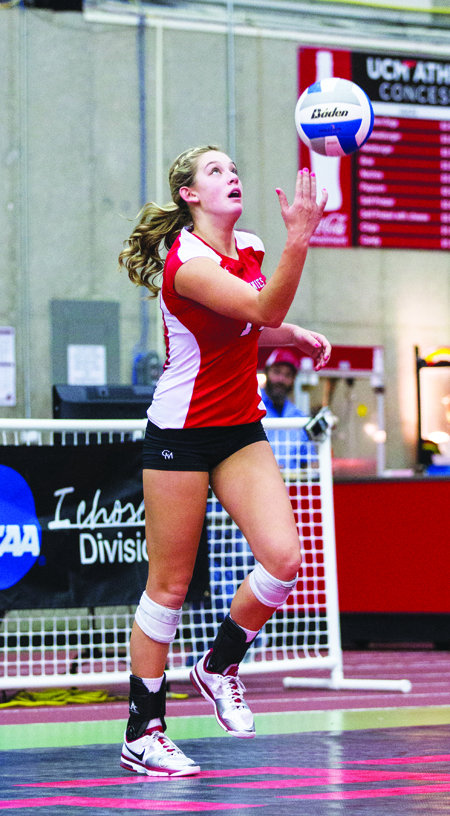 Story by Jason Strickland, Sports Editor—
After a 3-1 win over the Northwest Missouri Bearcats (15-17, 9-10) on Tuesday, the Jennies (25-5, 11-1) will travel to Kearney, Neb. for the remainder of the MIAA Tournament.
The 3-seed Central Missouri Jennies will face the 2-seed Washburn Lady Blues (31-2, 15-2) at 5 p.m. on Friday.
The winner of that game will play the winner of 1-seed Nebraska-Kearney (31-2, 16-1) and 5-seed Emporia State (20-11, 9-8) for the MIAA Championship on Saturday.
The Jens took this same six and a half hour road trip nearly a week ago when they lost to Nebraska-Kearney 3-0 last Friday.
"In 30 years I've never been to Kearney, Neb. to play a volleyball match until last Friday, and now seven days later I'm going back," head coach Flip Piontek said. "The volleyball gods are at work here, I can tell you that right now."
Piontek said they had a morning practice last Friday, but does not plan to do the same this weekend because he thinks it hurt the team by getting out of the normal routine they have on road trips.
The Jennies lost to Washburn 3-2 at home on Oct. 13, and Piontek explained what it will take to win this time.
"I think its going to come down to which team makes a few less errors and plays a little bit more aggressively," Piontek said.