Chad Anthony Imes
Master Sgt. Chad Anthony Imes, 37, of Warrensburg, Missouri, died Sunday, July 23, at Western Missouri Medical Center.
Funeral services will be held at 2 p.m. Saturday, July 29, at Sweeney-Phillips & Holdren Funeral Home in Warrensburg with Chaplain Cooper officiating. Military honors will be provided by the United States Air Force. The family will receive friends from 1 p.m. until service time at the funeral home.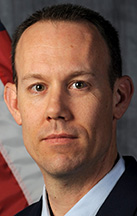 He was born Nov. 29, 1979, in Ventura, California, the son of James Imes and Theresa Jacobs.
On March 26, 2012, he and Latoshia Adams were united in marriage in Las Vegas, Nevada.
He is survived by his wife, Latoshia, of Warrensburg; three children, Grace Hicks, Jacob Hicks and Maximus Imes, all of Warrensburg; his parents, James Imes and wife, Carla, of Nevada; and Theresa Jacobs of California; sister, Janel Brannon of Nevada; and two brothers, Ryan Imes of Washington; and Greg Imes of Nevada.