Barbara Hull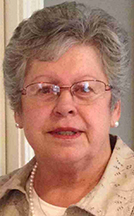 Barbara Ann Hull, 74, of Warrensburg, Missouri, died Tuesday, July 18, at the Country Club Care Center.
Memorial services will be held at 11 a.m. Monday, July 24, at the First Presbyterian Church in Warrensburg with the Rev. Mari Lyn Jones officiating. Interment will follow at a later date in Sunset Hill Cemetery. The family will receive friends from 10 a.m. until service time Monday at the church.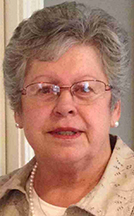 She was born Aug.22, 1942, in Kansas City, Missouri, the daughter of Victor and Faye Owen Isenhour.
She and Jim Hull were united in marriage on Dec. 29, 1962, in Liberty, Missouri. Barbara worked at the ASCS Office in Liberty as a young woman after attending Central Missouri State Teacher's College in Warrensburg. In addition to caring for her family and home, she worked as a salesperson at Connor-Wagner women's apparel, as a fill-in bookkeeper at Hull Lumber Co., and as an election official for several years. She was a longtime member and held several offices in the Daughters of the American Revolution and the ABC Club. As a member of the First Presbyterian Church, she helped organize sitters in the nursery on Sundays. She was also one of the founding members of the WD 40s Coffee Club. Barbara served on the Warrensburg Park Board during the development of Cave Hollow Park. She was active in the PTO at the schools.
Barbara is survived by her husband, Jim Hull, of Warrensburg; two daughters, Stacy Snoble and husband, Scott, of West Lafayette, Indiana; and Jennifer Decker and husband, Dennis, of Mesa, Arizona; a sister, Eleanor Kelly and husband, Loyd, of Liberty, Missouri; four grandchildren, Trenton Snoble and wife, Jordan, of Hartford, Wisconsin; Jared Snoble of West Lafayette; and David and Rachel Decker of Mesa; two nieces, Kim Phipps and husband, Gerry; and Kris Grandin and husband, Carl; and a nephew, Victor Kelly and wife, Kendra.
In lieu of flowers, memorial contributions are suggested to Powell Gardens and can be left in care of Sweeney-Phillips & Holdren Funeral Home.