Juan M. Acosta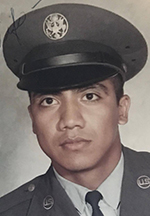 Juan M. Acosta, 66, of Warrensburg, Missouri, died Friday, June 23.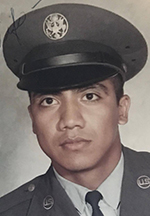 Funeral services are scheduled for 10 a.m. Saturday, July 1, at Northside Christian Church with Pastor Sid Tiller officiating. Interment will follow in Warrensburg Memorial Gardens Cemetery. Pallbearers will be Jeff Huggins, Derek Huggins, Daniel Huggins, Tony Moreno, Jay Sage and Allen Huggins. The family will receive friends from 6-8 p.m. Friday, June 30, at Sweeney-Phillips and Holdren Funeral Home.
Juan was born April 2, 1951, in Pecos, Texas, the son of Reuben and Alicia (Magallanez) Fernandez Sr.
Juan graduated from Madrid High School in Madrid, Spain, in 1969.
He and Marie Baird were united in marriage on May 25, 1971, in Fort Worth, Texas. She survives at the home.
Juan worked for the Postal Service when he was young. He later joined the Air Force, serving from June 1971 until June 1995 performing missile and space system maintenance and managing Minuteman facilities. While in the Air Force, he received several commendations and awards.
Juan highly supported his grandchildren in every activity they pursued, providing them anything they needed to succeed. He loved to rebuild classic cars and passed this love on to his children and grandchildren. He had a passion for playing basketball and football and collecting unique vintage arcade games, but his greatest passion was his family.
Juan is survived by his wife, Marie Acosta, of Warrensburg; son, Eric Acosta and daughter, Lisa Rooks, both of Warrensburg; his father, Reuben Fernandez Sr., of Abilene, Texas; two brothers, Rudy Fernandez and wife, Donna, and Robert Fernandez, all of Abilene; his mother-in-law, Audrey Baird, of Fort Worth; four grandchildren, Breeana, Maelyn, Marissa and Austin; and many beloved nieces, nephews, aunts, uncles, friends, and enemies who didn't pay their rent.
He was preceded in death by his mother, Alice Fernandez; a brother, Reuben Fernandez Jr.; and a nephew, Marcus Fernandez.
Memorial contributions are suggested to the Johnson County Cancer Foundation and can be left in care of the funeral home.