Mules sweep series with walk off homer
By JACOB WOERTHER
Sports Editor
(WARRENSBURG, Mo., digitalBURG) — Mules baseball completed their sweep of the Northeastern State Riverhawks with a walk off homer from Cole Distler Monday, April 24, at Crane Stadium Tompkins Field.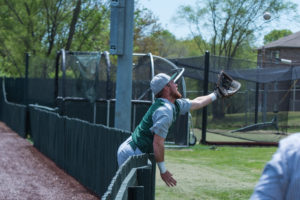 Extra innings appeared to be a real possibility when Distler approached the plate with no runners on base and two outs in the bottom of the ninth. The senior infielder, however, found the pitch he was waiting for from right-handed pitcher Dustin Berrong and sent it soaring over the left field wall to close the series.
Although the game came down to the final out, the score in the early portion of the game didn't suggest a nail-biter. The Mules scored the first run of the game in the second and added three more runs in the fourth courtesy of doubles form Blake Wilfong and Matt Elliott.
After leaving six men stranded in the first five innings, the Riverhawks offense put up their first run in the sixth.
Ross Juliana shut down the Riverhawks before more damage could be done and the Mules offense once again extended their lead. Wilfong singled to pick up his second RBI of the game and Jackson Schnurbusch reached home on a wild pitch to put the Mules on top 6-1.
The Riverhawks bats found life again in the seventh and quickly minimized the Mules five-run lead. Andy Muehlberger let up three runs in the inning, two of which came from a homerun blast from Chad Reibenspoes.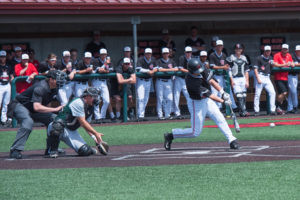 The Mules immediately responded with a triple from Nevil Colkin and a Justin Graff-Rowe double, making the score 7-4. Schnurbusch added an RBI single before the inning's conclusion to give the Mules a four-run lead heading into the eighth.
The eighth inning proved to be the Riverhawks highest-scoring inning as they put on a four-run rally to tie the game heading into the final inning. Butch Rea and Zane Takhar each made contact good enough for an RBI single and Jordan Payne drove the final run of the inning in with a double.
Despite an impressive spurt in the eighth, the Riverhawks were unable to amount any offense in the ninth and the Mules claimed the win in exciting fashion.
Wilfong was an essential member of the Mules offense, going 2-for-3 with 3 RBIs. Schnurbusch ended the day with a hit and two RBIs. Distler, Elliott and Graff-Rowe each drove in a run as well.
Ross Juliana had an ideal start, allowing only 4 hits and no earned runs over five innings. Muelberger and JJ Benes struggled in the sixth and seventh innings, but Ben Kelsch finished out the final 1 2/3 innings to earn his third win of the season.
The Mules have just two series left in the regular season: one against Missouri Western in St. Joseph, Missouri, and the other in Warrensburg against Washburn. The first game against the Griffons will take place at 6 p.m. April 27.